Before coming to Spain I never realized how much 4.67 square miles had to offer. Cádiz may be small but it is full of life and has something for everyone. As fun as it is to see different places in Spain, I thoroughly enjoyed spending this Saturday adventuring around the city. Jen, my roommate, and I made a nice day out of shopping for gifts for family and trying out a new restaurant.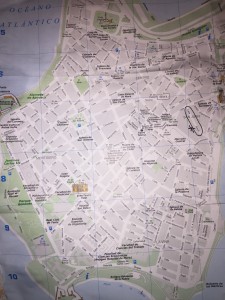 Our host family lived on Calle Arboli, right off of the Plaza de Flores. Everyday we were able to walk through this beautiful plaza and smell all the fresh flowers picked for sale. Once at the plaza we turn right onto Calle Columela, this street is definitely a great place to start if you're looking for all the trendy clothes, shoes, and home decor. Today we stopped into Kiko, Mango, Zara, Sfera, and a few more to get some last minute sale deals while the "rebajas" were still going on. Throughout the month of July almost all shops do their summer blowout sales so we really lucked out on timing of the trip.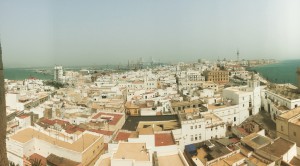 There are so many plazas in Cadiz and by now, surprisingly, I am very familiar with most of them. My favorite plazas to stop through were Plaza de La Catedral, Plaza de Flores, Plaza Candelaría, Plaza Mina, and Plaza de San Antonio. Plaza de La Catedral certainly held a special place in my heart since that was where we spent a lot of our time hanging out and doing work. The Cathedral steps are a great place to stop and relax and eat some helado. Plaza Mina has several restaurants that were worth taking the time for good tapas. Today we stopped in to the Mediterranean restaurant and had "Gambas Al Ajillo" which is shrimp in a garlic wine sauce. It is so good we needed extra bread just to soak up all the oil. At the end of the day, exploring any of these plazas will be worth the time for a new and fun experience.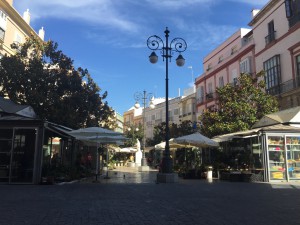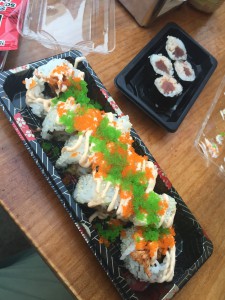 It is certainly smart to end a good night at the Mercado Central. The Mercado is right off the Plaza de Flores so once again this is very convenient for our location. During the day time, from about 9 to 2, the market is entirely open with seafood and vegetable vendors in the center. At night, one side is open from 8-12 for evening snacks and fun. Here is where you will find the most amazing sushi around. I am an avid sushi eater so I made sure to locate this place. It is called Gadisushi and it is worth the time to stop by. The fish is so fresh and makes for a great evening treat. What could be better than surrounding yourself with friends and food?