UML student Magdalene Stathas and I arrived in the Gare St Jean (the train station) in Bordeaux on the Sunday afternoon before we were to start our classes. Since we were spending the night in the center of the city, we decided to explore a bit. We walked a little ways down la Rue de St. Catherine, stopped by le miroir d'eau, and saw le Grande Theatre (all pictured below). We eventually revisited these areas for a longer period of time, though we were quite jet-lagged and needed to sleep!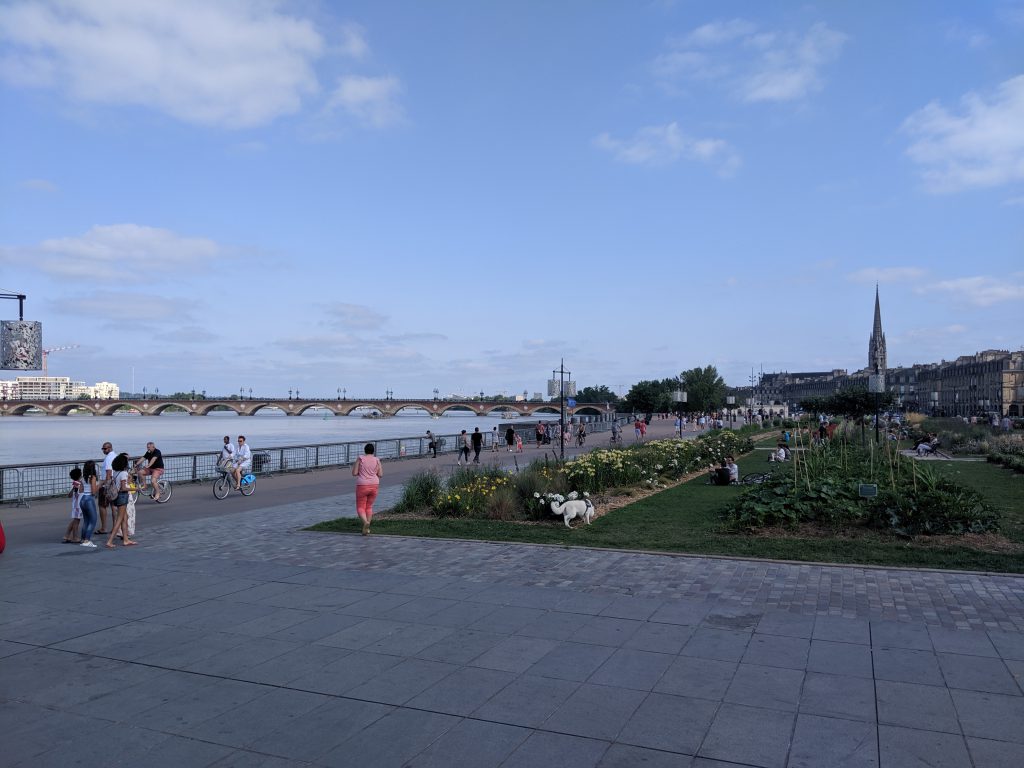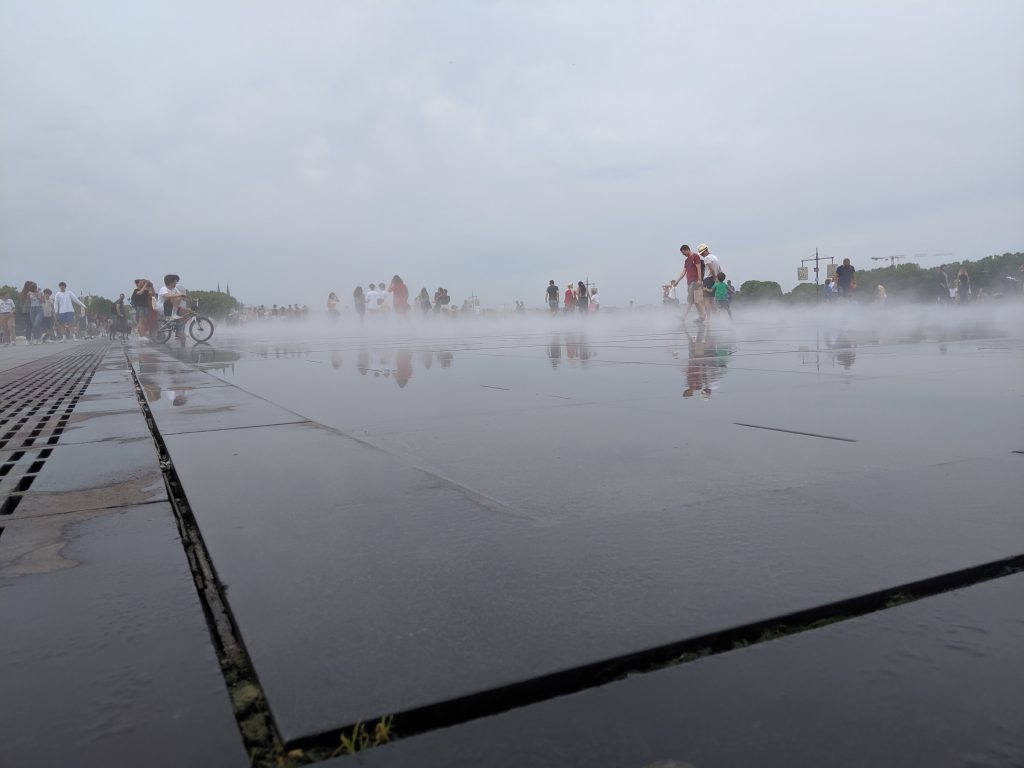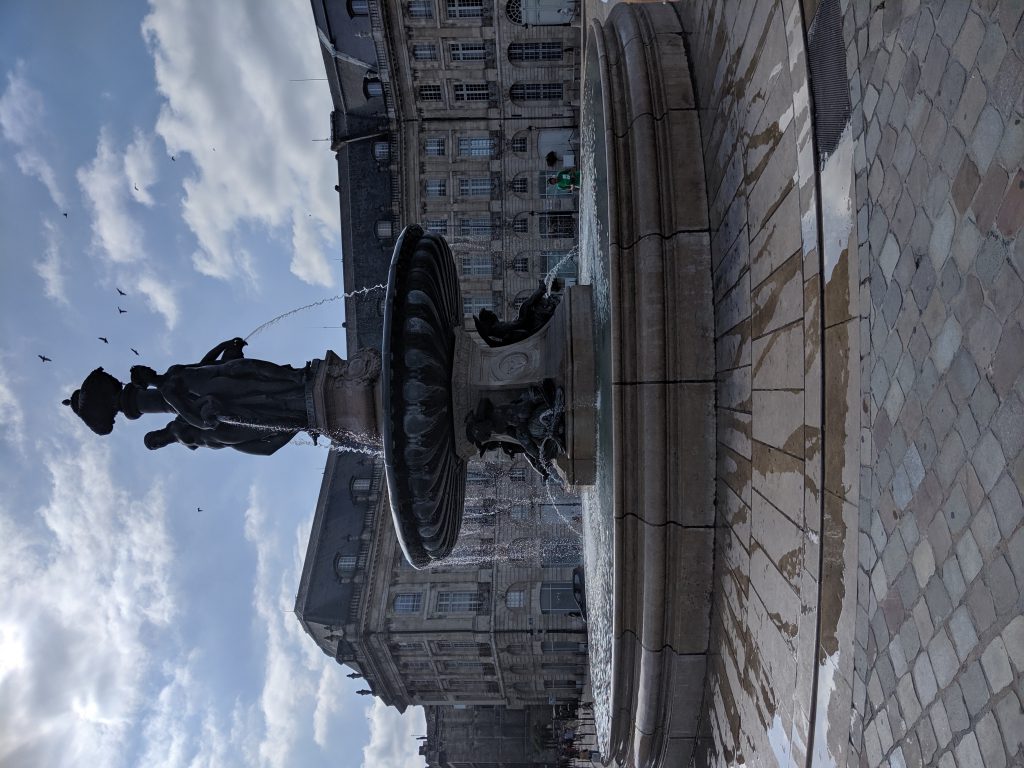 Week 1
We took french classes at the University of Bordeaux Montaigne for one session during the summer. Magdalene and I were of about 7 or so other American students–the rest were from all over the world. It was amazing to meet people from such interesting places, and having friends now in different parts of the world is extraordinary.
Throughout the month-long program, the staff arranged several excursions each week for the group to get to know each other and to learn about Bordeaux and french culture. The first excursion during the first week was a guided tour with one of our professors through the city of Bordeaux. We went to the Cathédrale Saint-André (which I revisited multiple times, as it is one of my favorite cathedrals that I've been to), le Hotel de Ville. la Rue de St. Catherine, le miroir d'eau, and a monument of french philosopher Michel de Montaigne. Our professor gave us some brief history and interesting information as well.

Weekend 1
The first weekend in Bordeaux, we took part in an excursion to Arcachon, which is a beautiful area right on the ocean. This was one of my favorite trips, and it was accompanied by my favorite professor. We took a boat tour around the area while getting an in-depth history of Arcachon and oyster harvesting, while being surrounded by breath-taking views.
After the boat ride, a few students and I spent a couple of hours on the beach before going back to Bordeaux. I personally do not eat seafood, but I went with my friends to eat oysters, as they are apparently known for being extremely fresh anywhere around Arcachon.

Weekend 2
The most picturesque weekend was spent in St. Emilion, again with my favorite professor. St. Emilion is an old medieval commune just outside of Bordeaux, and the area is famous for their wine. The vineyards went on for miles and miles, much farther than the eye could see. The old architecture and un-manipulated land were stunning, and you could almost feel like you were in medieval times. After walking probably two miles, we were rewarded with a wine tasting. First we had a tour of the winery and the wine museum, and pictured below are some of the huge barrels in which they filter and age the wine. In St. Emilion, only red wine is made, as only red grapes are grown, and we were able to taste three different types. The woman leading the tour and the tasting was so knowledgeable about wine and I learned so much from her about the entire wine-making process, which is around 40 steps, from when and how they harvest the grapes to when they bottle the wine. Also pictured below is the group of students with the tour guide.
Le 14 juillet
The 14th of July is Bastille day, which is essentially France's independence day. We went to the center area around le miroir d'eau, where they had fireworks to celebrate. There were so many people I felt like I was in New York City. Before and after the fireworks, there were several dance acts and fun performances for the huge crowd, and later on there was a concert with food and people dancing everywhere. The energy was amazing, and the whole city felt alive and happy that night.
Later on, we went on an excursion to another wine museum with yet another wine tasting. This museum was much smaller and was not located in the midst of miles and miles of vineyards, rather it was down a quiet old street outside the city's center. Most of the museum is constructed underground, and there is an incredible amount of history there. We had a tour guide who detailed practically the entire history of wine in Bordeaux, and then we had a lovely tasting of one red and one white wine from the museum, along with a lesson on how to properly taste wine. I am not a big wine drinker, but knowing how much effort they put into these wines made them very palatable.

Final weekend 🙁
During our final weekend, we went back to Arcachon (again with my favorite professor) although this time we visited the Dune of Pilat, which is the tallest sand dune in Europe. We hiked to the top of the dune (a very difficult task) and had a picnic in front of yet another breath-taking view of Arcachon. After the picnic, some people left to catch the train, but Magdalene and I stayed for the rest of the day. We walked down the other side of the sand dune to the ocean and spent a few hours there. I ended up falling asleep while laying in the sand, and I woke up with a horrible sunburn all over my body. I learned my lesson in terms of slathering on sunscreen! When it was time to go, we had to hike back over the sand dune to the other side. This was the most difficult workout of my life, because I was very sunburned, hot, dehydrated and hungry. Hiking up an extremely steep dune of sand is much harder than it would seem. I wish we could have stayed to watch the sunset, but we needed to catch the last bus.
Last few days
Magdalene and I took a little solo trip to Cap Ferret, a small coastal area located essentially opposite Arcachon. We spent the day there and rented bicycles to explore around. It seemed like every person who lived in this town was on vacation, because it was so quiet and there were so few people. Our day on Cap Ferret was leisurely and pleasant, as we simply rode our bikes along the coast, stopped at a market, and had a small picnic accompanied by a family of ducks.
My favorite beach that we visited was in Lacanau, which is well-known for surfing. We went on one of the hottest days, I believe it was about 104 degrees, and the bus we had to take to get there did not have air conditioning. It was very much worth the sweaty bus ride, because this was the most fun I've ever had on a beach. The boardwalk up from the beach was lined with different shops and restaurants, and I found the people to be kind and friendly. The next time I am in France in the summer, I will definitely be revisiting Lacanau!