By: Yashvi Patel, Kennedy College of Sciences Well-being Leader
Below are two fun TikTok recipes that you can try if you have a sweet tooth, like me, and like trying food combinations that may seem like they don't go together. Trust me, these are both surprisingly so good and addicting!
The fruit rollup ice-cream hack:
For this recipe, you need a fruit rollup, a plate, mango/fruity sorbet or vanilla ice-cream, and a spoon. You will unwrap a fruit rollup. The first two steps are to lay it flat on a plate and scoop ice-cream or sorbet onto the center of the fruit rollup, seen in the image below. Then, you should wrap the fruit roll up around it like a burrito to create a crunchy sandwich. I say crunchy because the ice-cream/sorbet should freeze instantly (within seconds!) and there is a satisfying crunch factor as you bite into it. This has become my guilty pleasure and I go through boxes of fruit roll ups just to be able to indulge in this snack. I have experimented with both vanilla and chocolate ice-cream, but personally I would say that it tastes better with fruity ice-cream or even better a sorbet because the coating is sour/fruity. The flavors will just blend more smoothly if you get a fruity flavor. Fair warning: SUPER addictive and EXTREMELY sweet, so try not to be me and eat this every night. I've been trying to limit myself to one a week. Rating: 9.5/10 (probably the best invention ever)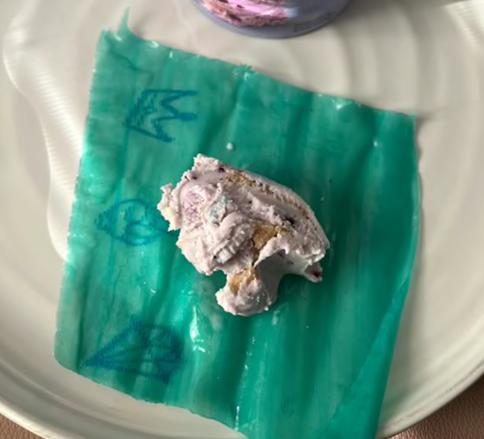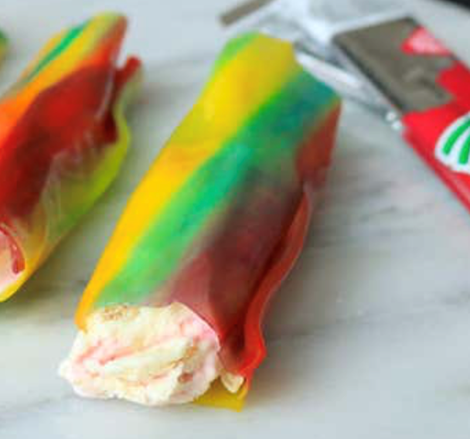 Wannabe sour candy hack:
I'm a fanatic of sour candy, but I always feel guilty after I eat it. With the next recipe, I feel like I'm putting something good into my body, but also having the illusion that I'm eating sour candy. Jell-O coated grapes are one of the best alternatives to my sour candy cravings. When this craving occurs, you can indulge in this delicious treat that is slightly healthier. This recipe requires only two simple ingredients: a box of sugar free Jell-O and 2 cups of green grapes. (You can also kick this recipe up a notch by trying a different variety of grapes). For this recipe, you will pick and wash a serving of green grapes and let them sit for a couple mins. Making sure they are still wet, transfer them into a large Ziploc bag. Pour the dry Jell-O into the bag and give it a good shake to coat the grapes. Remove them from the bag and place them onto a plate or into a bowl and pop them into the freezer. Let them freeze for half an hour and enjoy! Like the fruit roll up ice-cream, this treat is VERY addicting and should be consumed in moderation. RATING: 8.5/10.
https://lifehacker.com/fruit-roll-up-ice-cream-is-a-textural-delight-1850253022