By: Fahad Alden, Fine Arts, Humanities, and Social Sciences Well-being Leader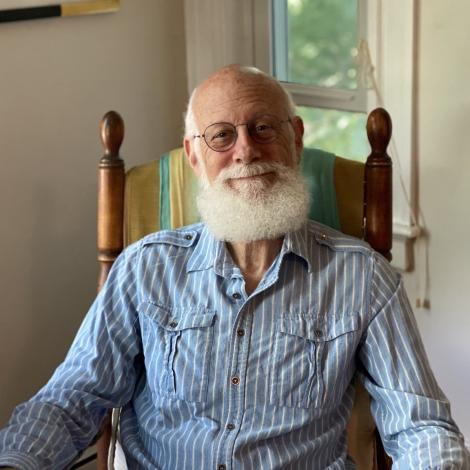 As a young college student, Neal Klein was confused about what to do. He had failed two classes and knew his major was not for him. Looking at his transcript, Klein noticed he had one B, which was in psychology. At that point, Klein began his journey in that field.
Holistic psychology is what Neal Klein researches, teaches, and lives. He describes it as "life philosophy." Holistic psychology focuses on different areas of a person and how they are interconnected. For example, a holistic counselor will examine their clients' spiritual, environmental, psychological, and physical characteristics. Also, Klein has authored two books centered around holistic psychology. Recently Klein has been trying to reach new audiences with his YouTube channel Trance- Ending Times, with over 200 subscribers.
What drew him into psychology was his deep curiosity to understand human behavior. However, he was rejected from six different graduate schools before he decided to take a break. He decided to take a gap year and work as a freelance photographer.
Boston University graduate school accepted him. Part of his graduate program was working as an assistant teacher, where he found his calling to be a professor. He became an assistant professor of holistic psychology at Lesley University in Cambridge, Massachusetts. As a professor, Klein focused on counseling, holistic health, and cross-cultural psychology. He would later work as a full-time professor and have his own private counseling practice for over 30 years.
While working as a professor, Klein has formed great bonds with his students. David Roos, a graduate of Lesley University and Klein's former student, credited Klein for being the most impactful professor he has had. Roos said, "Klein is a professor who truly cares about building relationships with students, and it comes through in how he speaks with them and not at them." Roos said Klein often tells his students to call him Neal instead of Dr. Klein, creating a comfortable and open class environment.
Cacky Mellor was just a senior in high school when she met Klein during orientation day at Lesley University while he was presenting the holistic psychology program. He left a great impression on Mellor and became her mentor, so much so that she said that Klein inspired her work now as a professor at Lesley University and as the person she is today.
One of the things Mellor enjoyed most was class discussion. She said, "In class, he always wanted students to take what they learned and apply those tools to their lives." Mellor noted that Klein wanted to see what impassioned his students. He wanted to embolden them with tools of holistic psychology rather than lecturing in class concerning what he believed.
Klein incorporates experiential learning into the courses he instructs. He described one assignment where students teach concepts from his self-authored textbook, Me, Myself and Mindfulness, to their friends and family. This assignment aims to take the ideas the students learn inside the classroom and helps them share the knowledge with other people.
Besides his work as a holistic psychology professor, Klein is also well-known for teaching West Coast Swing dance courses. The course is offered to Lesley University students of any major to take. Many of Klein's students who were not psychology majors met Klein through his swing dance class. Klein acknowledges that the course structure is unique because it has a wide range of different materials incorporated together. These elements include physiology, anatomy, and mindfulness studies. The course size ranges from 30-40 students. In 2011 Klein also co-founded a swing dance group called The Dancing Fools, which occurs every Wednesday night and averages 125 students per night.
"On the surface," Klein's former student David Roos said, "West Coast Swing dance seems easy, but the dance is filled with spins and fun movements. It is a high-intensity dance, and people often 'sweat bullets' after finishing it." Nevertheless, Klein often outdoes the 20-year-olds at dance venues despite his age.
When Klein is asked what he enjoyed the most about swing dancing, he says it is the beauty of two strangers dancing together for the first time. Neal said, "Not a single word is often said, just them using their senses of sound, touch, and sight." He compared seeing people light up while dancing to being the equivalent of magic and that no words compared to witnessing it firsthand.
Klein even does this with his hobby, his YouTube channel. He believes society needs to feel a sense of connection. His videos have a wide range of topics from "how to pick the right therapy and right therapist". Klein saw his students feeling alone and isolated and thoughts his videos could be a great sense of bonding among his students. He also shared that his favorite videos are his newer ones and that he is always working on and refining his videos. Klein refuses to delete any of his older videos because he wants his students to see his journey through his educational struggles, which was not easy.
As for what the future holds, Klein sees himself continuing his work of meeting with his dance students and working as an Assistant Professor. Klein said that the capacity of how much he does might change, but everything he does, he believes, is within his "alignment."