By: Ashley Asuncion, Zuckerberg College of Health Sciences Well-being Leader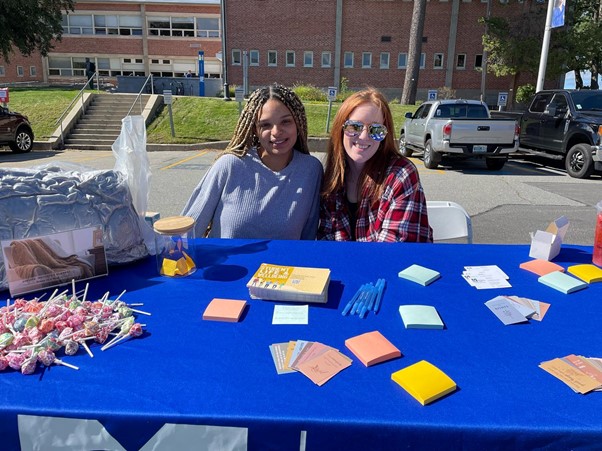 Every year on campus, there are a tremendous amount of events hosted  at different times, which are open to all students, faculty, and staff to attend; some are even open to even the public. I'm here to tell you the inside scoop of how the annual South Campus Fall Fest 2022 was an afternoon to remember. On September 29, from 12pm to 3pm, South Campus hosted their annual Fall Fest where food, lawn games, giveaways, live entertainment, and school clubs were there to provide a good time!
The Office of Student Life and Well-being did not hold back to bring out the "Well" in well-being, if you know what I mean. Well-being leader Casey Tiernan and I had a table in front of Durgin Hall welcoming students, giving away positive appreciation cards, postcards with information of our office and events being hosted and last but not least, a weighted blanket that was a part of a giveaway. To participate in this giveaway, students were asked to follow @zuckerberg.wbl and @umlwellbeing. By the end of the fest, our mason jar was full of tickets. Luckily, we had our last visitor fellow student, Felix J. pick out the winner of the giveaway. To see how it all went down feel free to visit our Instagram page, @zuckerberg.wbl
It was a great turnout for the Fall Fest, as an opportunity for students to really engage with each other, making long lasting memories and indulging in the nice weather and appreciating the experience of being a UML college student. It was truly a pleasure to be able to meet so many students and do something fun like enjoying a fest.
As a student and a well-being leader, I recommend all who have the time to step back from all the hard work of being a college student and indulge in the joy of being educated. It is always important to allow yourself to have a break once and while. There are plenty of studies that can support the fact that breaks are healthy. According to The Wellbeing Thesis, "The Importance of Taking Breaks" (n.d.): "A relaxing break can help to facilitate recovery, by returning your mental and physical functional systems to their baseline…. Social breaks, such as chatting with your peers, have also been found to be beneficial. …. Taking breaks has been shown to be important in recovering from stress [7], which can, in turn, improve your performance"
So, whether you decide to take a break for a few seconds, minutes, hours or days it will never do you harm! I mean it says it in science- when it comes to the facts best to weigh out the options. But always remember to maintain your health above all, because the work will always be there but your wellbeing is crucial to your quality of life. Therefore, do what you must but don't forget to cut yourself some slack and take a break. We hope to see you at next year's fall fest!