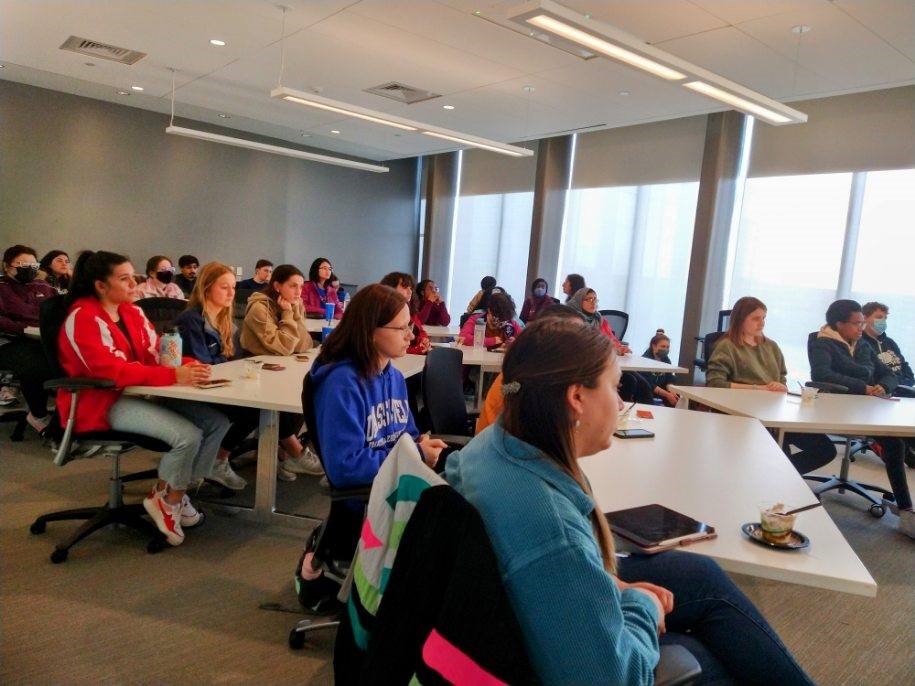 On March 22nd, 2022, The Office of Student Life and Well-being hosted their first event, Don't Sleep on Trivia. Students are constantly reporting that they don't get enough sleep, and March is Sleep Awareness Month, which made it the perfect time for an event related to sleep.
Students were able to attend both in person and virtually. The event was also a "Destination UML" event, meaning that prospective students considering attending UML were able to attend as well.
The room filled up with students eager to learn about healthy sleep habits, so much so that we ran out of chairs! Students enjoyed whole wheat zucchini muffins and yogurt parfaits, which both contain a healthy balance of carbohydrates and dairy, making them the perfect snack for a good night's sleep.
The event kicked off with a presentation about the science of sleep by Diana Walker-Moyer, Director of Health Services. She explained that sleep is a time for the body to restore, and not the brain. She spoke of the hormones that affect our sleep, emphasizing the importance of getting 7-8 hours of sleep at night and waking up at the same time each day. She explained that healthy sleep improves our physical, intellectual, and emotional well-being.
After Diana's great presentation, Assistant Director of Student Life and Well-being, Hannah Monbleau hosted Round 1 of Trivia. Students answered questions about the science of sleep [which were informed by Professor Zhang from the Zuckerberg College of Health Sciences] from their phones (how convenient!). The top 3 winners were announced on the leader board and a sleep mask, essential oil diffuser, and Tempurpedic pillow were claimed by the winners!
Up next, University Dining's Dietitian provided nutrition tips for healthy sleep. She broke them into her "Sleep Do's" and "Sleep Don'ts"
According to Melissa, to achieve healthy sleep you should:
Eat a healthy, balanced diet such as the Mediterranean diet
Limit highly processed foods
Have a carbohydrate containing snack 1 hour before bed combined with a dairy product
To achieve healthy sleep, you should NOT:
Deprive yourself of sleep- you will be hungrier and prefer high fat and high sugar foods
Have caffeine 4-6 hours before bedtime
Eat highlight processed foods before bed, and avoid being energy depleted, as it will be harder to fall asleep.
Next, the Office of Student Life and Well-being shared some tips from Jon Bragg, Associate Director of Residential Education, including respecting quiet and courtesy hours, and requesting support from an RA if someone is being too loud, making your room as comfortable as possible, having a blanket for the winter and a fan for the summer, creating a sleep schedule for your roommate and always using headphones when watching TV or listening to music.
After Melissa and Res Life's great tips, Hannah Monbleau hosted a 2nd round of trivia. This time, the 10 questions were related to sleep dos and don'ts. Students answered on their phones and the top 3 winners won! The prizes were a lavender sleep spray, a sound machine, and a weighted blanket.
The event concluded with Diana Walker-Moyer providing attendees with the following take-aways:
Aim for 7-8 hours of sleep at night
Create a sleep-friendly environment
If you lose sleep, catch up by going to bed 1-2 hours earlier the next night
Avoid daytime naps if you can, but if you must nap, limit it to 20-30 minutes
Put the lid on the caffeine, the nicotine, and the alcohol too close to bedtime
Use your bed for sleep and sex only.
Exercise to move your body! But don't exercise 3-4 hours before bedtime.
Finish regular meals 2-3 hours before bed, but don't go to sleep hungry! Have a healthy bedtime snack such as yogurt with granola or cheese and crackers.
Students and staff that attended hopefully left feeling full of both yummy food and great sleep knowledge and were ready to have the best night's sleep of their lives!