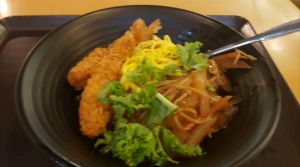 Hey!
I'm a student currently in Seoul, South Korea for an academic year and I've noticed there's a great difference between food back home at UML and the food here at Yonsei. Yonsei has several cafeterias serving different foods from different countries. The cafeteria I visit the most often has a main desk where you order your food from.  You receive a ticket telling you which country the food is from and what your number is.  Your number will show up on multiple screens throughout the cafeteria and once it does you walk up the respective stand for what country or region your food comes from (Korean,  Japanese,  Chinese and Western) and hand them your ticket before taking your food.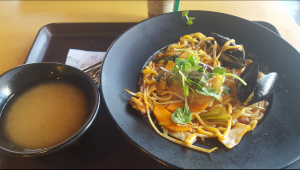 All of the meals in this specific cafeteria range from 3-4 USD.  There's another cafeteria down stairs where you can buy meals from 1-2 USD and another sells meals for 5-6 USD.  These are all located in the "Student Union " building in the center of the campus.
(1st picture is shrimp tempura)
(2nd picture is a seafood noodle dish)
Follow this Fall 2017's Office of Study Abroad & International Experiences Global Correspondent, Ashanti Williams, on her studies in Seoul!
Ashanti is a UMass Lowell Liberal Arts major with concentrations in Music and Asian Studies. Ashanti has been interested in Korean culture ever since she was young and her mother was stationed in Busan, South Korea.
She is studying this fall on a UMass Lowell exchange program to Yonsei University in Seoul, South Korea.
To learn more please contact us.