Tuesday afternoon, the six of us set off hungry with the goal of eating as many pintxos as possible in the next two or so hours. Our mission was met with great success as we visited four different restaurants for pintxos.
Pintxo is a Basque word referring to a small serving or plate of food. It's like a snack, not enough for a full meal. Traditionally, one would meet up with some friends, go to a bar or restaurant for a pintxo and a drink, finish, move on to another bar, and repeat.
The birthplace of the pintxo is San Sebastian, where we are staying and studying, and in the neighborhood of Gros (in the eastern part of the city) we tried what is recognized as the first ever pintxo in Bar Zabaleta. That's right we tried the OG pintxo itself: La Gilda. Take a look: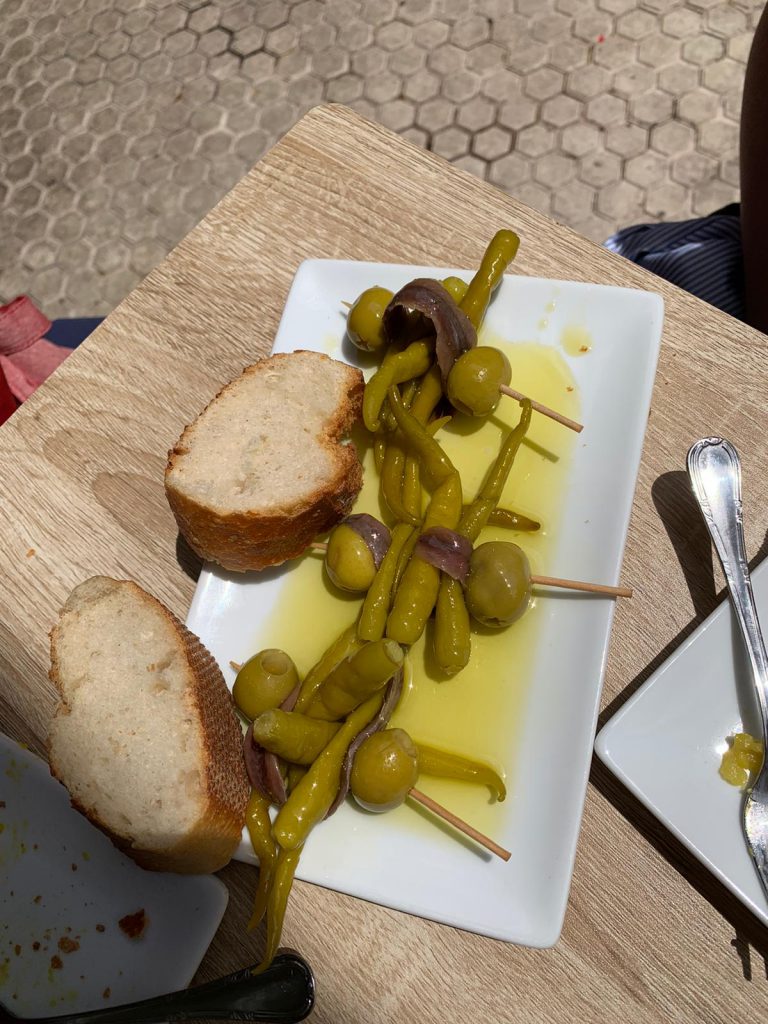 La Gilda includes pickled olives, chili peppers and anchovies, skewered together and meant to be eaten in one go. As you'd expect it is very salty, very acidic, and a little spicy. It kinda felt like an assault on my senses to be honest. But others must like it since it remains popular. Definitely worth trying at least once.
Also at Bar Zabaleta we of course had to try the iconic, the universal, tortilla de Espanola (Spanish omelet). Virtually every restaurant in the city will serve you a slice of tortilla. It is delicious, despite being quite simple. The only ingredients are eggs, potatoes, onions, and salt. It's hard to get good tortilla in the US for health reasons (stupid government always trying to protect my health), but you can try making it at home. I had made several attempts before coming here, with varying degrees of not success, and none of them were nearly as good as the tortilla from Bar Zabaleta. We unanimously agreed it was the best we had ever had.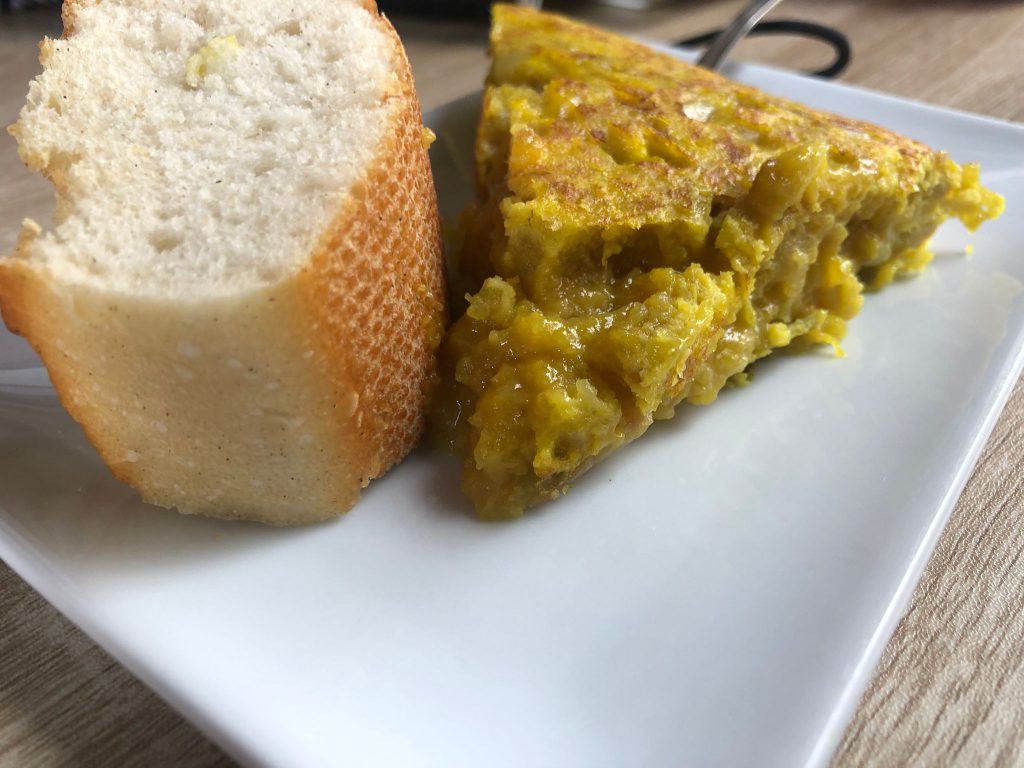 After one more pintxo at Bar Zabaleta – green peppers topped with salt, which we were lucky to get because the local peppers are seasonal – we visited Bar Bergara. After a round of tortillas we each made some diverse, individual selections. Myself, I ordered a Croqueta because I knew the Iberian ham had a reputation for being the best in the world. Croqueta is like a deep fried dumpling filled in this case with mashed potatoes, cheese, and the best ham in the world. That won't be the last time I order some Croqueta.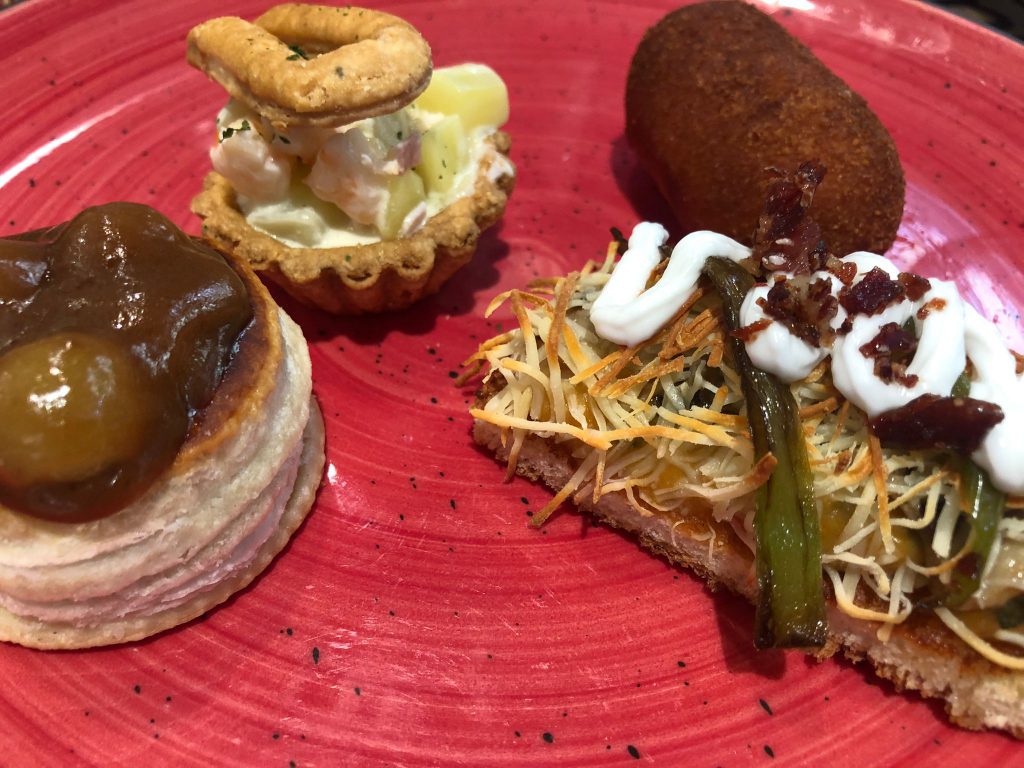 Our third stop was a restaurant our professor actually had yet to visit; Bar Txangai. We were feeling pretty stuffed by then, and only stayed long enough for one pintxo: another tortilla. In opinion this tortilla was the best, narrowly beating out the one from Bar Zabaleta. It had a beautiful orange color that you can only get from local eggs.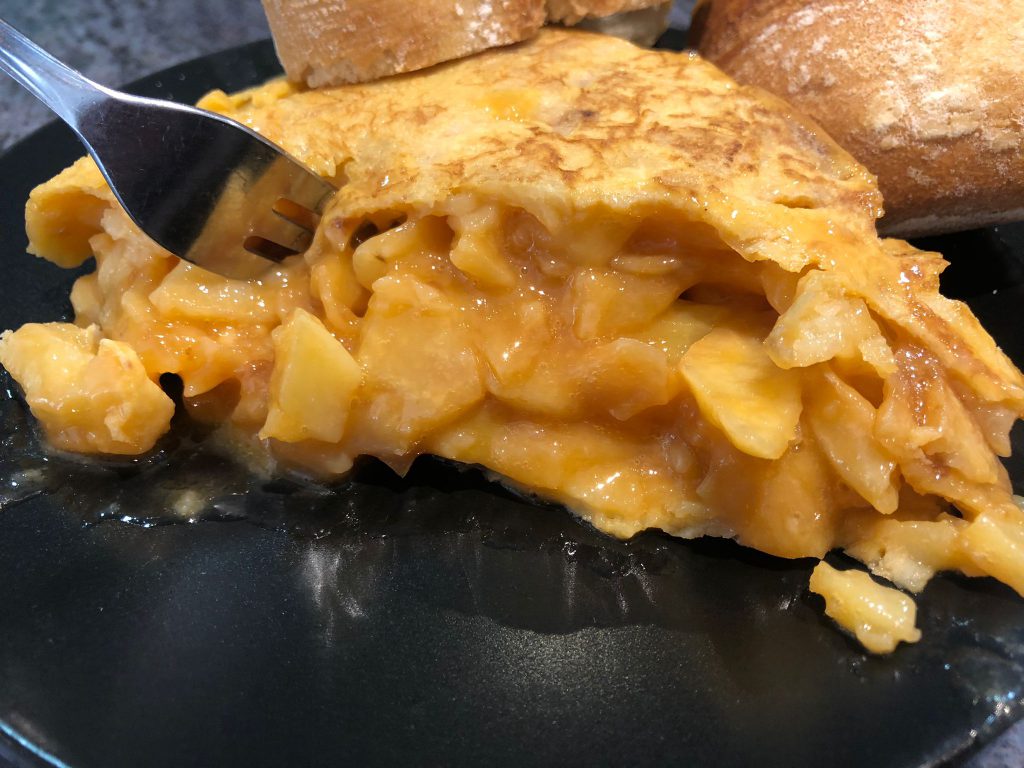 Our pintxo tour ended at Casa Senra Donostia, where we ordered so many different dishes I couldn't possibly describe them all in detail. One of which was octopus tentacle which you can see below. Octopus may seem daunting, but if you push down your fear of it coming alive and wriggling inside your mouth it actually tastes a lot like bacon. I also had shredded crab mixed with mayonnaise on some toast which was amazing.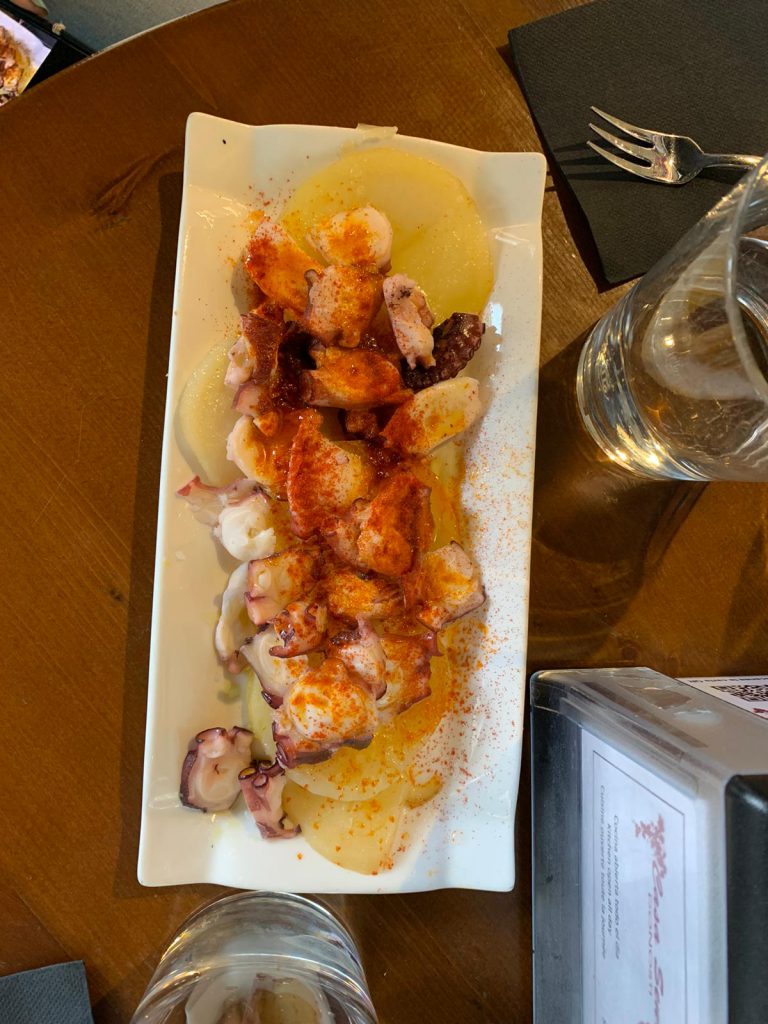 This pintxo with professor Zabalbeascoa was a great introduction to the local Basque cuisine. The region is well known for it's food and I definitely want to appreciate that as much as I can. Of course you can find good food in the US, but I do envy the social culture of bar hopping with friends and trying several different pintxos. I am somewhat disappointed that I wasn't able to join the second pintxo tour today in Parte Vieja. I highly recommend a visit to San Sebastian, and also that you attempt your own tortilla to bring some of that pintxo culture back home. Naturally we ended our tour with some gelato which always makes a good day great.