The morning started off with a beautiful bike ride (for some) along the beach as we made our way to Lacunza for our Spanish class of the day. The beach was empty of people, the sun was shining on us, and the sounds of the waves were so soothing. We all got some exercise in preparation for all the calories to come during our pintxo tour with Professor Julian. After hearing about the tour the other group went on yesterday, we were all nervous for what was to come. As a picky eater, I did not want to go in scared of being of trying new things.
Our pintxo tour was in and around Gros. At our first pintxo spot, we were presented with croquettas, Iberico ham, and the gilda. Gilda was a skewer with pepper olive and anchovies which were to be consumed all in one bite. I did not have the courage to try that as it is very outside of my comfort zone. However, my classmates did and they all reacted differently from one another, which I found interesting. Next we tried Iberico ham, which is a ham produced here in Spain. This was so delicious and flavorful. I could have finished the whole plate myself. However, I did have to save room for more food as this was just the beginning. I also tried croquettas which were my favorite because I had made them for an assignment in my Basque Culture course during the spring semester. I followed the recipe in Marti Buckleys Basque Culture cookbook; however, they obviously did not turn out exactly as they were supposed to. Tasting the way in which they are properly supposed to be made was a fun experience and enlightened me on the mistakes I had made texture wise when I had made them.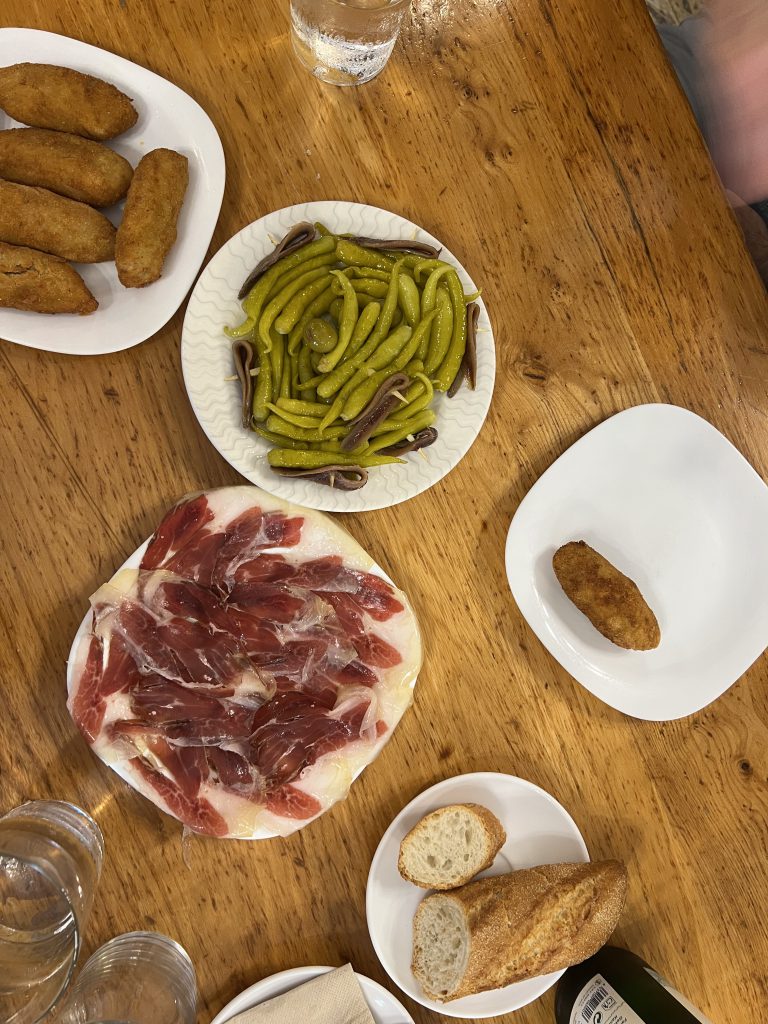 We left this pinxto bar and headed to the next, but had made a stop along the way for tortilla. As we were walking do the next spot, Professor Julian had pointed this place out and we saw there was fresh tortilla, and ended up all trying some. This to me gave me the best experience of what it is like to hop pinxto bars. Eat at one bar, walk a little and stop where you find something intriguing. The tortilla was cooked well on the outside and runny on the inside which gave it a unique but delicious taste and texture.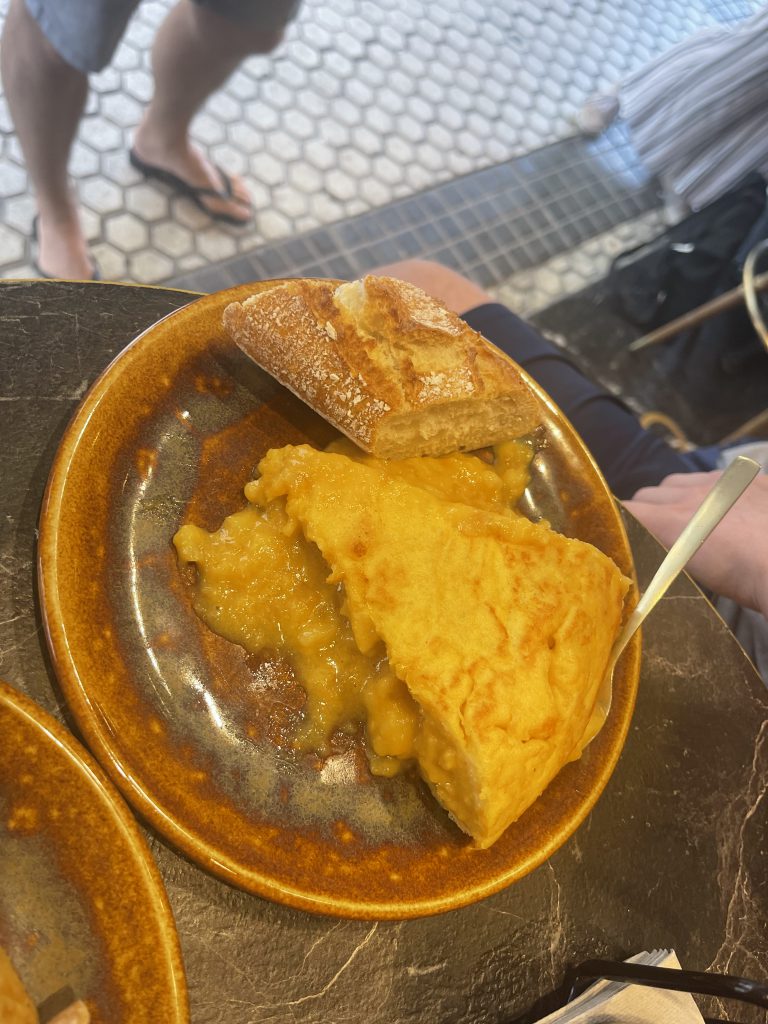 After having two croquettas, Iberico ham, and a  tortilla, I was beginning to feel very full. At our next pinxto spot, we all got a block of cheese that was melted on the inside and covered in seaseme seeds and fried on the outside. This pinxto had such a unique taste to it that I'm still not sure if I like it or not. It was hard to tell as I've never had a combination of these foods.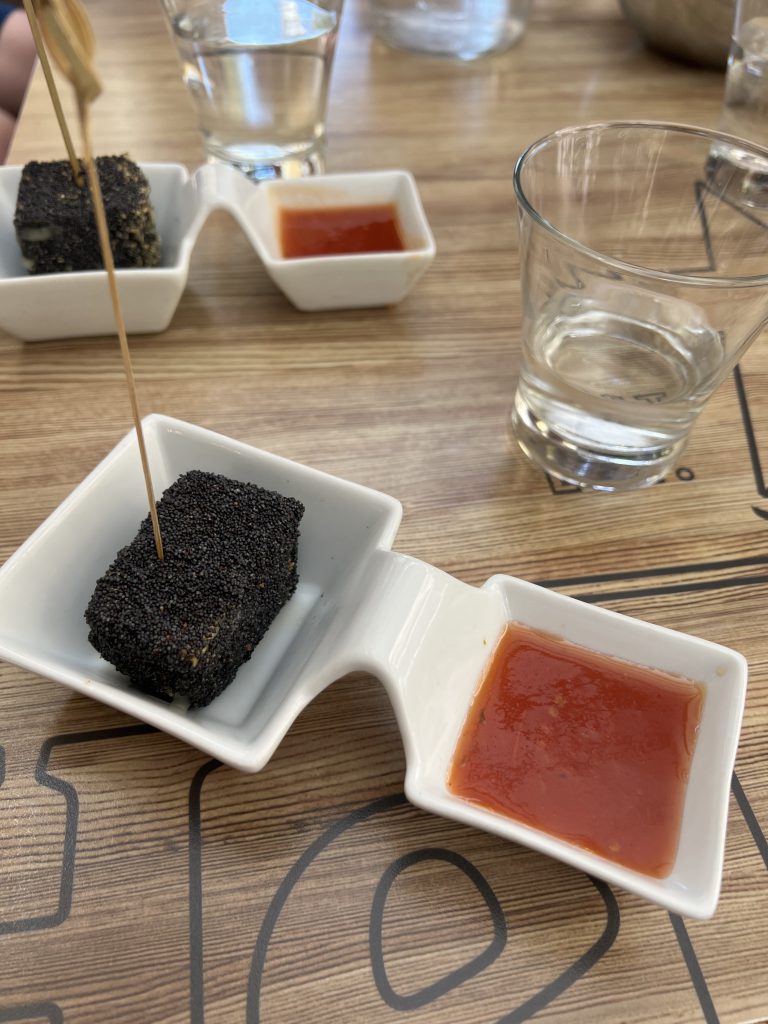 We all each got another pinxto off the menu that we were interested in trying. I had chosen grilled mushrooms.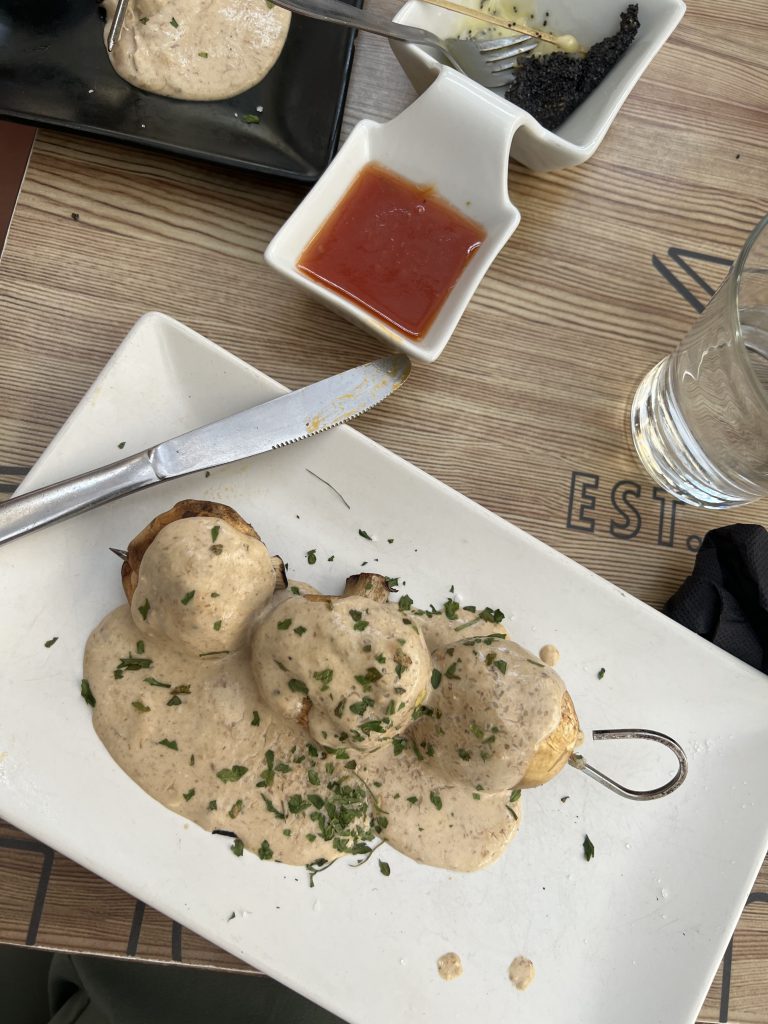 Others chose Basque style sausages, tuna, and salmon. We all shared our pintxos so we all had the opportunity to try a variety of foods at this bar. my favorite was the Basque style sausage because it tasted very similar to linguiça.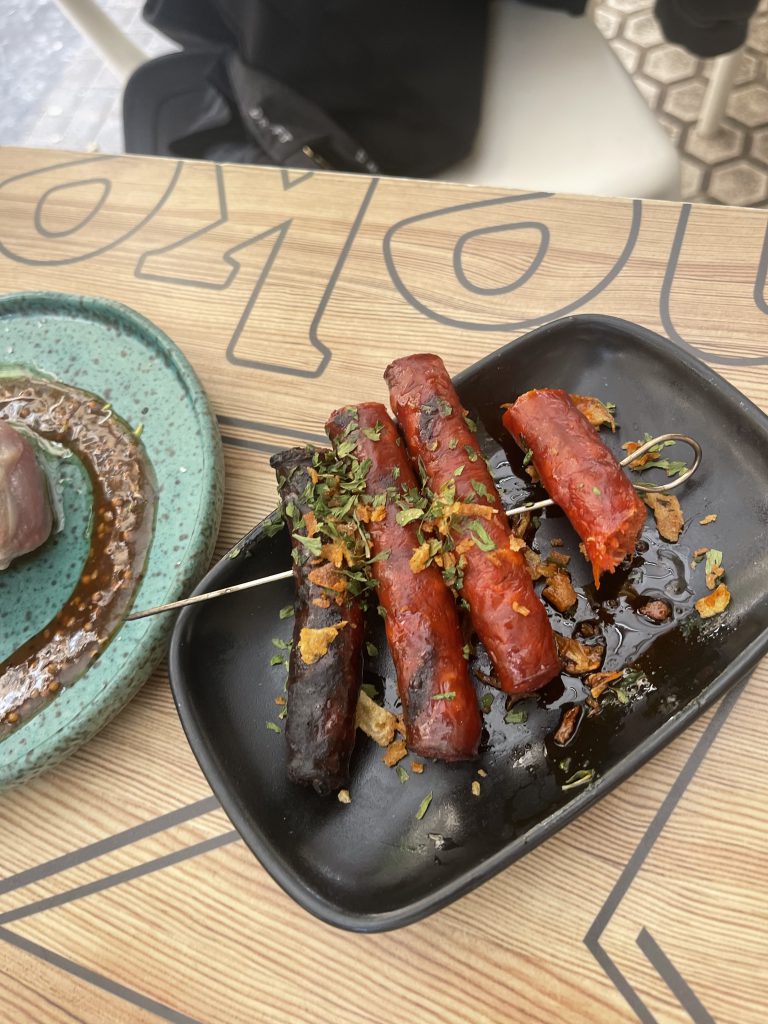 For the students who tried the pinxto gilda, the pinxto tour came full circle as we went to our last pinxto spot. This pinxto bar reinvented the gilda into a sushi roll with anchovies in the center topped with little balls filled with the oils of pepper and olives. They looked aesthetically pleasing; however, as mentioned I am a very picky eater and this pinxto was a combination of two foods I would never eat, so this was a no from me. Like the gilda, everyone had mixed reactions to this sushi roll. 
Although we were all full, we all had room for dessert of course! We got some gelato from one of the best gelato spots in San Sebastián, and walked to a desert place while we ate.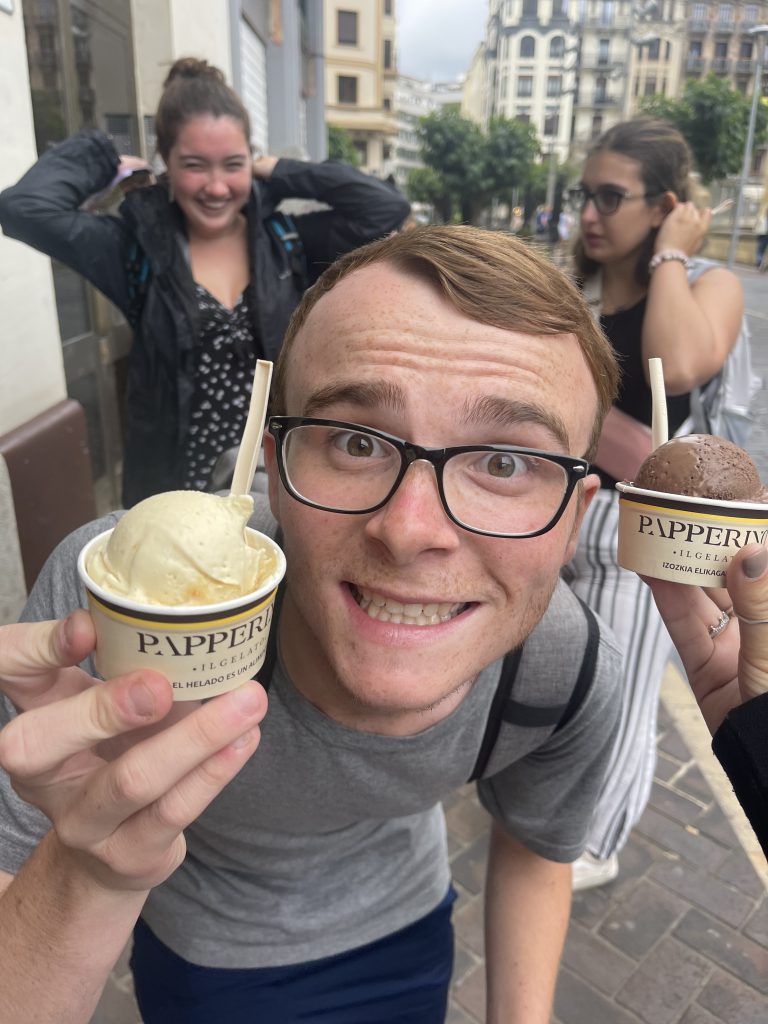 We arrived at a cafe across from Zurriola beach. There we had Basque cheesecake; which I had made following the recipe from Marti Buckleys cookbook for my Basque culture class. I have been looking forward to trying a Basque cheesecake because when I made mine for class I mistook 1 teaspoon of salt foe 1 tablespoon, so I was extremely curious as to how it tasted without all that extra salt. We also tried brownies at this cafe that is made from Marti Buckley's cookbook. Along with our deserts we also had some coffee.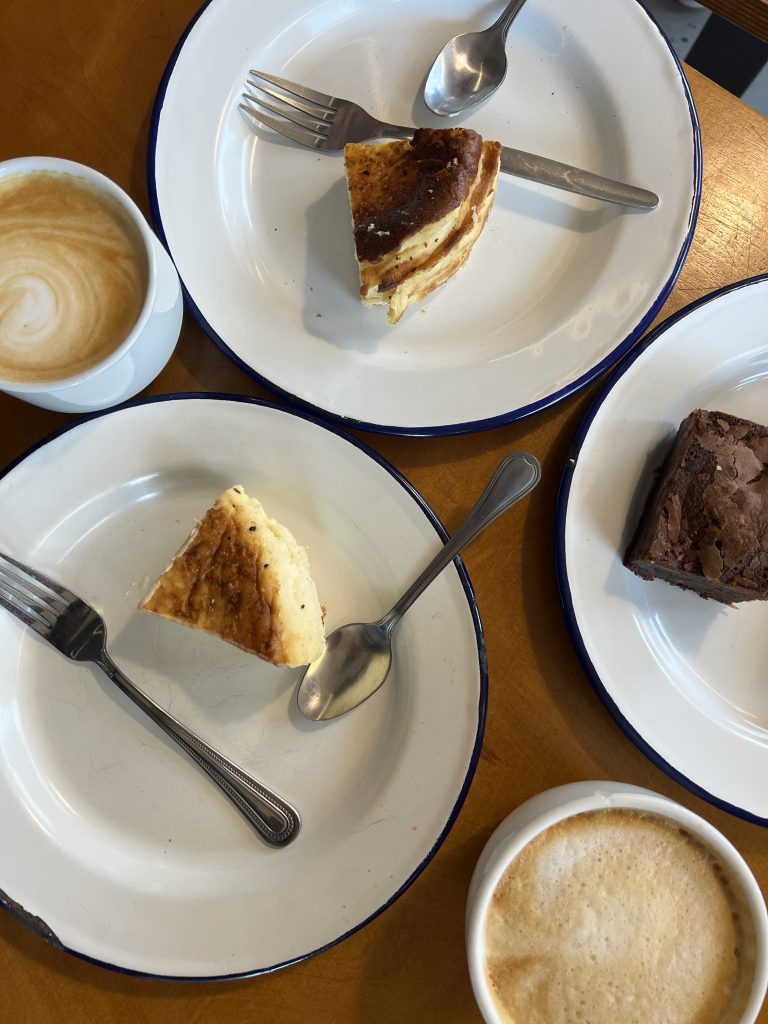 As full as we were, an hour or two later we were all hungry again, so we hopped on our bikes in search for some more food. We got to see a beautiful sunsrt and the city come to life at night as everyone was out on walks, watching the sunset, and eating dinner. Oveall, today was filled with so much culture and I feel as though I got a good glimpse of the way of life here in San Sebastian!