Hola from San Sebastián! My time here has been amazing so far. I'm very intrigued by the culture of the people of San Sebastián, and even more intrigued by the spectacular food crafted in this city. I'm usually a very picky eater, so it is hard for me to come out of my shell and try new things, but I couldn't resist trying some pintxos. If you're unfamiliar with pintxos, like I was when I first got here, they're "small bites". I would compare them to appetizers. They're also "haute cuisine", which is basically food that looks elaborate. The average cost of a pintxo is about 2-6 euros. That is around 2.50-8 US dollars. My pintxo adventure today took place in Gros, which is a neighborhood in San Sebastián. It is a relatively new area that has less tourists. Our pintxo tour was split into two groups, one group went to Parte Vieja, and my group went to Gros so make sure you check out the blog post by my classmates as well to get the full pintxo experience!
             In Gros, we first stopped at Bar Zabaleta, which is located on the golden mile. We started with a tortilla. It is important to mention that tortillas in San Sebastián are much different than tortillas in America. This tortilla was delicious and actually was my favorite tortilla out of all the places we adventured to. It contained eggs, potato, salt, and olive oil. The tortilla is versatile, and can be made with Yukon Gold potatoes. Next, we had cider, which was purely natural, with our first pintxo. My first pintxo was anchovy, olives, and gilda pepper. These were all on a skewer. It tasted like something I've never tasted before. It was decadent. At home I would've never eaten something like this, but I'm glad I jumped out of my comfort zone and tried this unique pincho.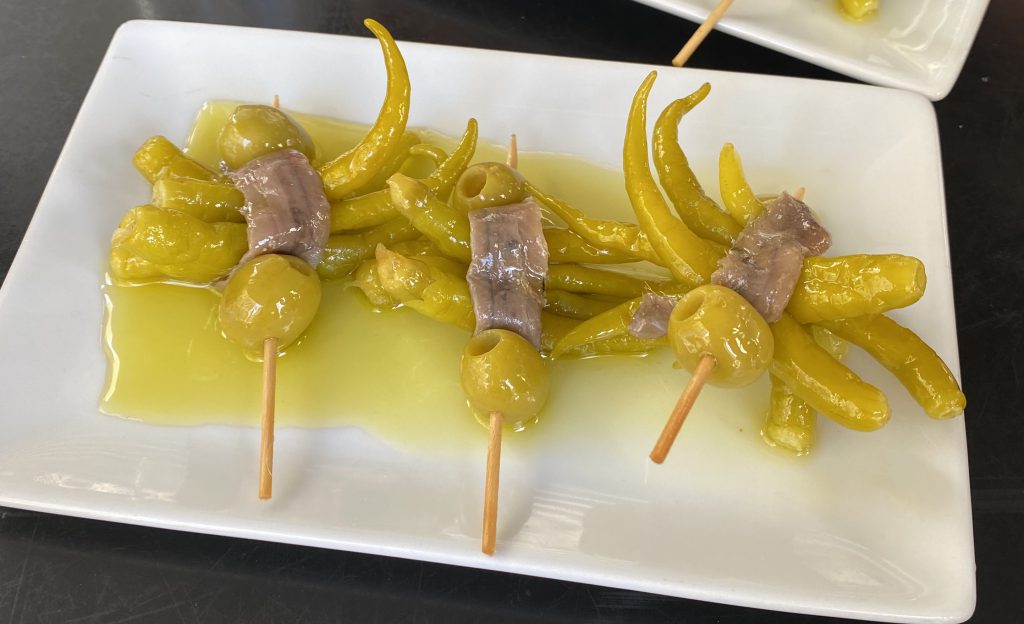 After Bar Zabaleta, we traveled to Bar Begara. This place put Gros on the map. First, we started with a tortilla. In my opinion, the tortilla wasn't that flavorful compared to the other tortillas I tasted on my tour. Everyone got different pintxos, but I had the ajoarriero style cod. It was hot, and I would compare it to clam chowder. It was really good, and I plan on ordering it again during my time here in San Sebastián. 
        Next, we checked out Xarma. The interior of this place was extremely unique, and we actually got to look downstairs at their dining room. We ordered tortilla de patatas and xuxi de la diosa gilda, which was the sushi version of the first pincho I tried. I love sushi back home so I was pleased to try it at Xarma. The sushi was a lot more toned down than the actual pintxo that I tasted at the beginning of my tour, but it was still something I would order again. I got piquillo parrillero relleno de su propia esencia y carbòn de yuca as my pintxo. It looked like a pepper, but inside it had a carrot-like sauce that was thick and creamy. I was starting to get full so unfortunately I didn't get to enjoy all of my pintxo, but if I was hungry I could have eaten two!
Lastly, we checked out Hidalgo 56. I was eagerly waiting for this part of the tour because I heard they sold pig's ear. Luckily, we ended up ordering pig's ear, a tortilla, and blood sausage. I know that you're probably thinking that you would never try pig's ear, but it was the best thing I tasted on the tour. It has a similar taste to bacon. I also tried the tortilla and the blood sausage. I wasn't a big fan of the blood sausage, but it did look delicious. The tortilla was a close runner-up to the first tortilla I tasted because they were both flavorful.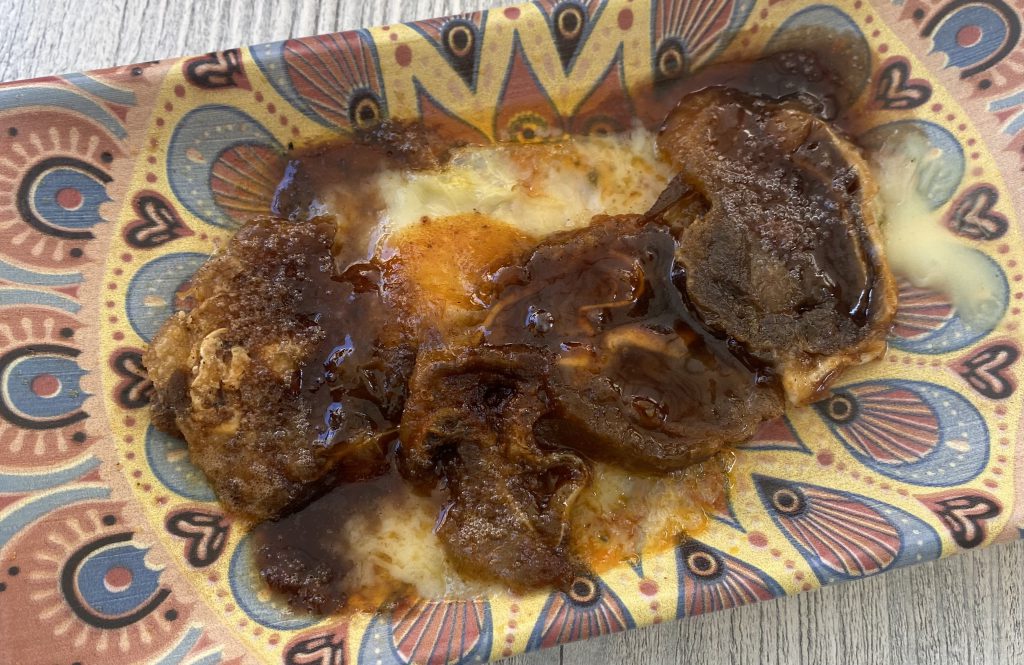 To cap off the tour, we had gelato. I got stracciatella, which happens to be my favorite gelato flavor. I recommend that if you travel to San Sebastián you should try out all the places I listed above. Besides pintxos, a few of my favorites during my time here have been the cheesecake, and the arroz cubana. The cheesecake I had came with a delicious raspberry sauce on it, which could never compare to any cheesecake I've had at home, and the arroz cubana was rice with egg and a tomato sauce on top. I definitely will be trying to create my own adaptations of the pintxos, and meals that I listed above and I hope you try to as well! Ciao!