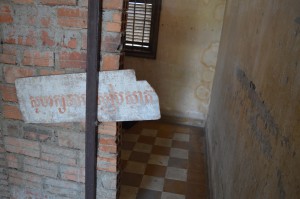 It's my first visit to Cambodia. I arrived one week after everyone else in order to attend my baby sister's high school graduation in Seattle, so I missed out on few adventures.  Although I missed the tour of AUPP and visiting the Royal Palace, I knew our Study Abroad experiences were just beginning. My very first place to explore in Phnom Penh was Tuol Sleng, the former Khmer Rouge torture center. I know my classmates have already posted things about Tuol Sleng, but for me personally, my heart dropped as if a sailor dropped anchor. I captured some photos that seem significant to me. It's shocking to learn that this building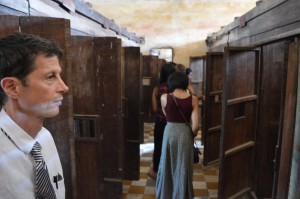 used to be a high school before it was converted it into a prison. Inside the former class rooms, there are brick walls setup in cubicles that are poorly done by amateurs. Probably, the KR were in a rush making them or they may have never done it before?  There are also wooden cubicles that are roomier than the brick cubicles, but very stuffy with a scent of old wood.
One of my classmates Elizabet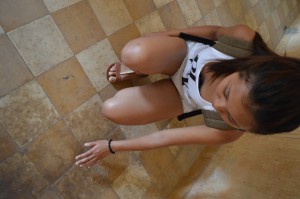 h was checking the floor and noticed there was leftover dried blood from one of the prisoners.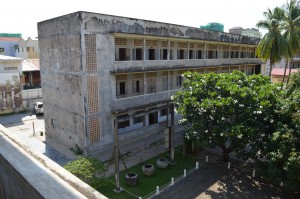 Overall, Tuol Sleng is a historical museum that taught me the reality of a former prison and the history of the Cambodian Genocide. I just wish this museum never existed, but the museum is a memorial to the victims during the KR era.