For my final "study" (lol) break at Murdoch University, a few friends and I decided to go to Bali, Indonesia. It is actually cheaper to fly to Bali from Western Australia than it is to fly to Eastern Australia from Western Australia!
We left Perth on a Sunday evening and got on the four hour flight to Denpasar, Bali. The customs forms were super confusing because non of us had any background in the language but we eventually figured it out.
We arrived in Bali at around 11pm and as soon as we got off the plane we were hit with a wave of HUMIDITY. Man, it was toasty. We went through immigration and border control and got to the main lobby of the airport. There were people all over the airport that kept following us around trying to get us to ride in their taxis to the hotel, but we were told by a friend who had been to Bali recently, to only use the BlueBird taxi company. We walked by someone who had a card saying he was with the BlueBird taxi company so we went with him. He gave us a ride to the hotel and turns out he was not actually really a worker, so we got overcharged! When in Bali, only go in the BlueBird taxis, and make sure it actually says BlueBird on the car itself, and that there is a meter inside the cab. There were so many people driving cars with fake taxi company names on them with the exact same logo as the BlueBird company, like BlueBrid (which is kinda difficult to see if you hop in a taxi quickly!) So keep your eyes peeled!
We finally got to our hotel, and luckily, someone in our friend group has a family member who works for Holiday Inn, and they got us a real cool deal at a FIVE STAR RESORT. Right on the beach! It was so cool! We were greeted at the front desk with tea and cold towels to wipe our sweaty faces off with. There was a huge pool and our room overlooked the ocean. We ordered room service that night, which was ridiculously cheap (food is very cheap in Indonesia) and planned the next day.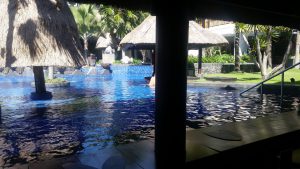 The next day was really laid back. When I travel, I usually plan every second of my day with fun stuff, but for once I just relaxed! We laid on the beach and then I went and found some shells and then we went in the pool. We all went out for dinner, and there was some pretty cool stuff on the menu, like lizard!
We were up early the following day, because we had a 13 hour tour to go on! In Bali, there aren't really big tour buses because the roads are too crazy! People just rent drivers for the day and they take you to cool places, and it's really cheap, so that's what we did.
Our first stop was a sarong making factory, we watched them being made from scratch and then being painted.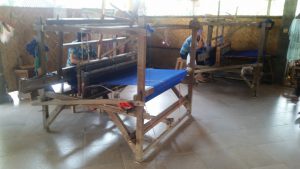 Then we went to a Barong dance show, and saw traditional dancing in super cool costumes and heard traditional Balinese gamelan, which is an ensemble of percussion instruments.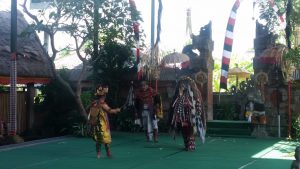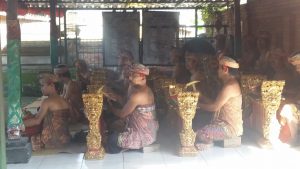 Next, we went to an art gallery. Most of the art was either traditional Indonesian and Balinese art work, or realistic paintings of landscapes in Bali.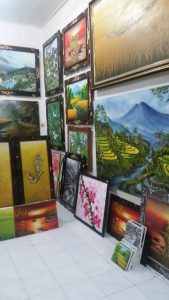 After the gallery, we went to a waterfall closer to the center of the island. It was so hot and there was a lot of walking involved, I almost passed out! I bought a bottle of water at a little market place – ALWAYS drink bottled water in Bali, even brush your teeth with it, and keep your mouth closed in the shower, you do not want Bali Belly, one of the friends I went to Bali with got it from brushing his teeth with the tap water, not fun! – When I bought the bottle of water, I put it on the floor while I opened my backpack, which was a huge no-no! I didn't know that was considered disrespectful in Indonesia. As soon as I put the bottle down, the woman that sold me it picked it up off the floor and put it on the table near me.
We finally got to the waterfall and the spray coming off it was so refreshing. There were signs everywhere saying " No entering if menstruating." These signs are all over Indonesia in sacred places, like temples and such. Women are not allowed in sacred areas if they are on their periods! We hung out at the waterfall for a bit, then made our way back to the car.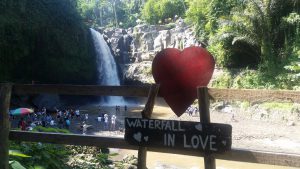 After the waterfall, we went to a coffee plantation and tasted different coffees and teas. There is a certain type of coffee they make in Indonesia, called Luwak coffee.  There are these cat/possum/tree-climbing creatures in Indonesia and they have a few of them in pens around the plantation and they feed them coffee beans, and then when they poop them out, they make coffee out of the pooped-out beans! Luwak Coffee….yum.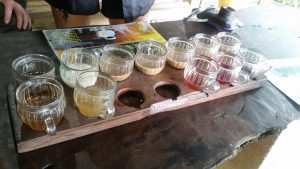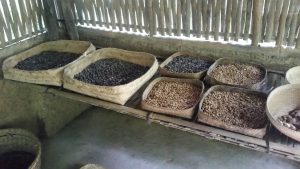 Next was my favourite part of the entire week. We went to the sacred monkey forest! It's pretty self explanatory! There were wild monkeys running around all over the sacred forest. Most of them were friendly, but we were told to be very careful because they steal stuff, so I made sure to bring my jacket with zip up pockets. We were walking around and a few of them even came up and jumped on our shoulders after realizing we had peanuts to feed them.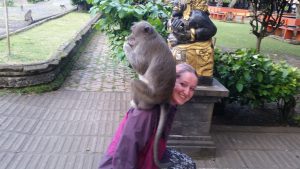 We continued walked around the forest, which was absolutely beautiful, so I had to get my phone out and take photos. After taking my phone out of my pocket, I kind of spaced out and didn't put it back in my pocket right away, I just lightly held it in my hand. (Cue jaws theme…. oops… foreshadowing…) Suddenly! I felt something grab it out of my hand, and I turned around giggling because I thought it was one of the friends I was with that was messing with me, but then I realized that he wasn't right behind me, but he was staring in shock next to me, at the monkey that had STOLEN MY PHONE.
The little Indonesian lady that was showing us around told us not to move and she ran off. The monkey just sat there staring at us chewing on my phone. He knew that she was going to get food to make a trade for my phone with him. They are super smart little monkeys. Luckily my friends were there with their cameras ( safely attached to their wrists) and were able to get a picture of him, because most people probably wouldn't believe if I told them a monkey stole my phone.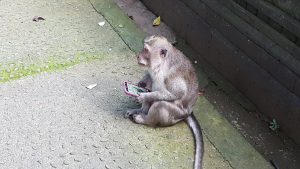 The lady came running back about 3 minutes later with a bag of chips and threw them at him, but he just ran off with the chips and my phone into the woods off the path! I thought my phone was gone forever but then the lady started chasing him, and after about 2 more minutes she came out of the woods looking extremely disheveled carrying my phone. She really was my hero, and probably the most bad ass woman on earth. And now I have a phone with a bite mark on it from an Indonesian monkey.
After that escapade we were all really hungry, so we went and had dinner and watched the sunset at the Tanah Lot Temple, which is a really popular place to watch the sunset, it was so busy!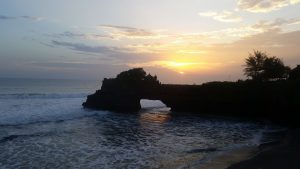 The next day we woke up pretty late, and went in the pool for a bit, and then walked down the street to find a place to get lunch. We all got duck and it had really cool Indonesian spices on it. There were lizards running around everywhere because the restaurant was mainly outdoors which was really cool. Me and the other girl that came on the trip had heard that spas were really cheap in Bali, and it was also her birthday, so we decided to try it out. It cost us about 5 USD for an hour long massage, and it was the best massage ever! Everything in Bali is so cheap, it's ridiculous! We decided that we would go into the town with all the nightlife that night. We went to a hibachi restaurant, and watched the chefs do some really cool tricks, then we went and drank out of whole coconuts on the beach!
The next day we spent the whole morning snorkeling at a place called blu lagoon! The water was ridiculously clear and I saw so many colorful fish, but sadly there was a lot of trash in the water. They aren't very strict about littering in Indonesia, so there is trash everywhere if you aren't in the very highly tourist populated areas.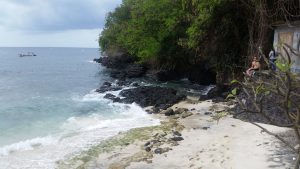 After snorkeling, we went to a bat temple, which you guessed it, is a temple next to a cave full of bats! We weren't allowed in the cave because the bats are very sacred and they don't want to disturb them .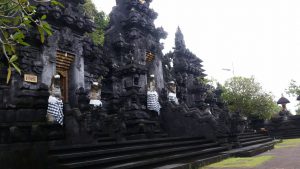 Then we went back into the town with all the night life to go do some shopping. Bartering is a huge thing in Indonesia, and we were all pretty good at it and got some sweet deals on clothes! I left early to go back to the hotel because I was doing a hike the next day that required leaving the hotel at 1:30AM and I wanted to try and get some amount of sleep, which didn't actually happen because I was too excited. After about a 20 minute nap, my alarm went off and I got on my hiking clothes and went downstairs to meet my driver and guide, along with the other people that had signed up to do the hike. There were only three of us in the group!
The reason the hike was so early is because the whole point is to see the sunrise from the peak. We arrived at the base of Mt Batur ( which is actually an active volcano) around 3am and got given flashlights and started making our way up. It was a really difficult climb because the ground isn't very stable, it's mostly really thin powdery dirt and rocks. We made it to the top and our guide gave us some snacks and we watched the sunrise. We had to eat pretty fast because there are stray dogs wandering around that try and steal your food,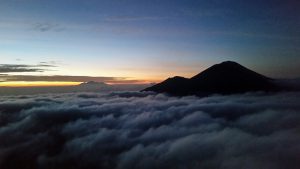 (View from the top of Mount Batur)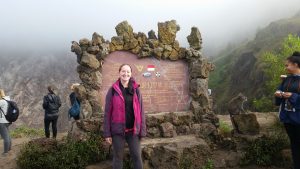 On the way back down the mountain, we stopped at a chili pepper farm, and our guide hopped over the fence and grabbed us a few to try.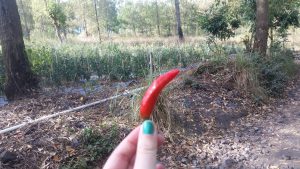 And there were also terrifying spiders everywhere!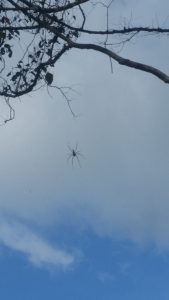 We made it to the bottom and our driver took us back to the hotel.
When I got back to the hotel, my friends were about to leave to go see some temples and a rice terrace,  as much as I needed sleep, seeing more cool stuff sounded way more fun, so I went with them.
We stopped at an elephant temple, which was surrounded by rain forest and really cool little ponds. One of my friends snapped this really cool picture of me in the rain forest!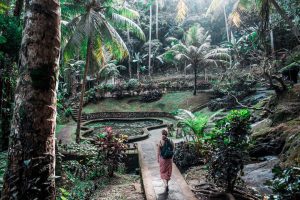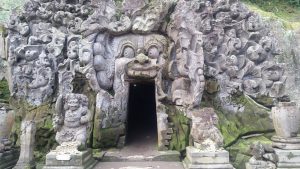 There were so many mosquitoes in the forest, it was insane, I probably used a whole bottle of bug spray that day.
Next we went to a rice terrace which I thought was so pretty, it's hard to believe it's farming and not just crazy architecture!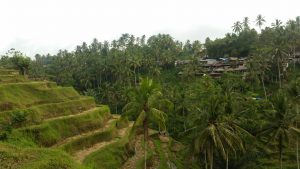 Then we went back to the hotel and got ready to go out to dinner for our last night in Bali. I picked the dinner place. It was called pirate's bay, and was a pirate themed restaurant on the beach, with tree houses and an old boat you can eat in. It was so cool. We ate in a tree house, and you had to ring a wooden bell when you needed service. It was a great end to the trip. We went home pretty early because we had to leave the hotel at 4am to get our flight. I probably got a total of 2 hours sleep in 72 hours, man I crashed hard when we got home to Perth!