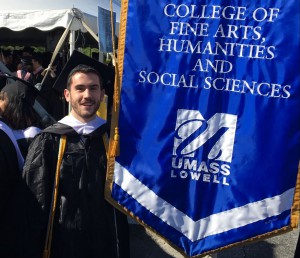 Nicholas Gates is an alumnus of the Political Science and History Departments at UMass Lowell, having received a dual degree as an undergraduate in Spring 2016.
During his time here, Nick was actively involved with the Honors College, as well as the Model United Nations, New Student Orientations, and Student Alumni Ambassador programs. Having studied international affairs and becoming interested in international education, Nick studied abroad in at UMass Lowell partner university, Queen's University Belfast, in Northern Ireland during the Fall of 2015. Continuing his international education work, Nick served as an office assistant for the Office of Study Abroad during the Summer of 2016.
As a graduate of UMass Lowell, Nick is continuing his international studies as a full-time graduate student at the University of Copenhagen in Denmark, beginning Fall 2016 where he will be studying for an MSc in Global Development.
Follow Nick's global experiences via this blog!