Nine months of winter and three months of summer. This was a Spanish phrase that our tour guide, Alicia, had said. Spain gets pretty hot in the summer, especially at noon when the sun is at its highest. At least it wasn't as hot as some of the previous days (high 90's in Fahrenheit). I was sweaty everyday and always dehydrated, but I wouldn't trade these days for the world.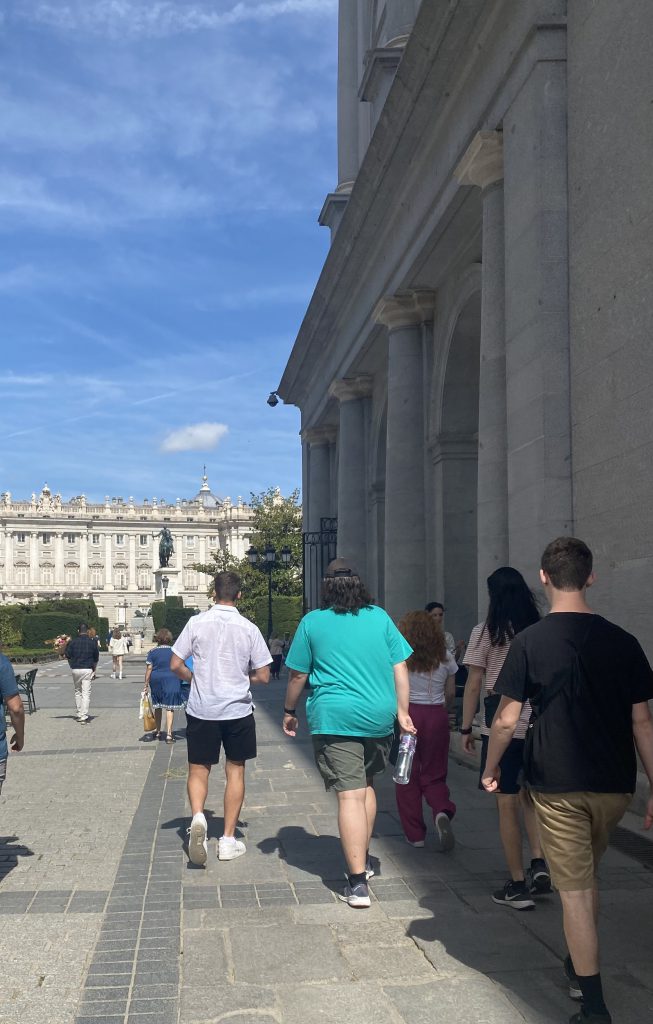 The Royal Palace
We met at the hotel lobby at 11 AM and walked about 15 minutes to the Royal Palace of Madrid. We had seen the outside of the palace in a previous tour, but now we had a chance to look inside. Our tour guide was named Alicia—not to confused with API's Alicia. Below, the picture show the street side of the palace (left) and the outside of the palace past security (right).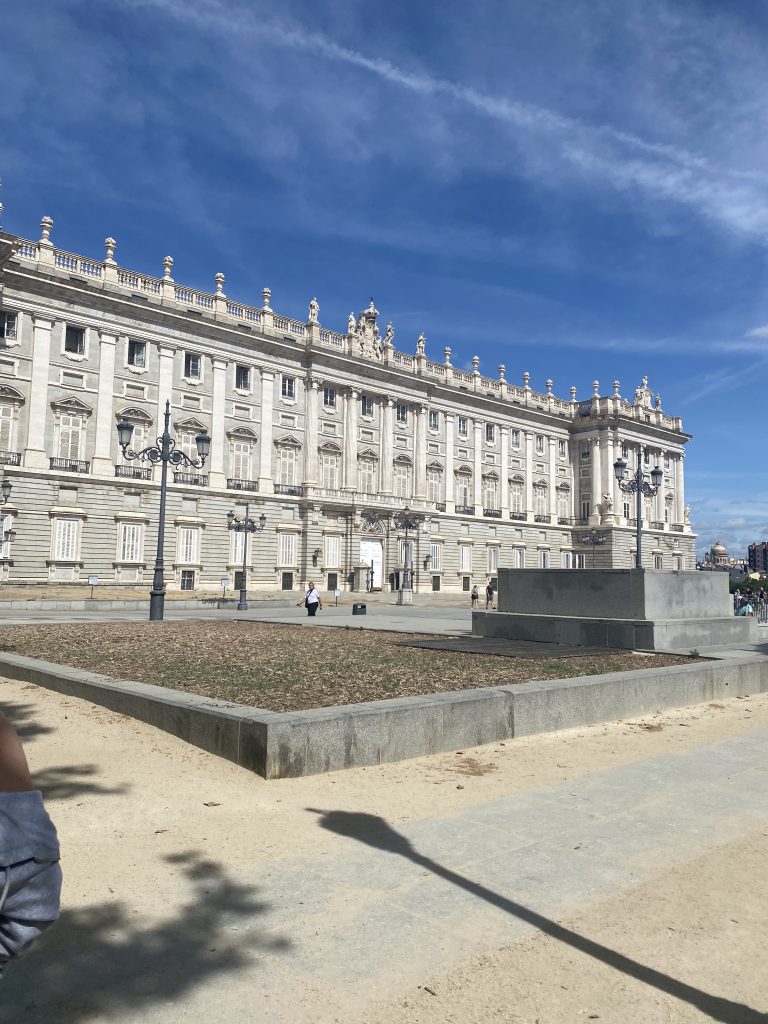 The palace was huge and extravagant, because why wouldn't it be? Its construction began in 1734 and was completed in 1764, with Charles III to be the first one to live in the palace. One room had 15 chandeliers, and another held several display cases of porcelain items, gifted to the Spanish royal family as wedding gifts. There were so many rooms to explore and most of them didn't allow photographs to be taken. We just took in the sights, listening to our tour guide's voice as we dodged the many other tourists in the limited spaces.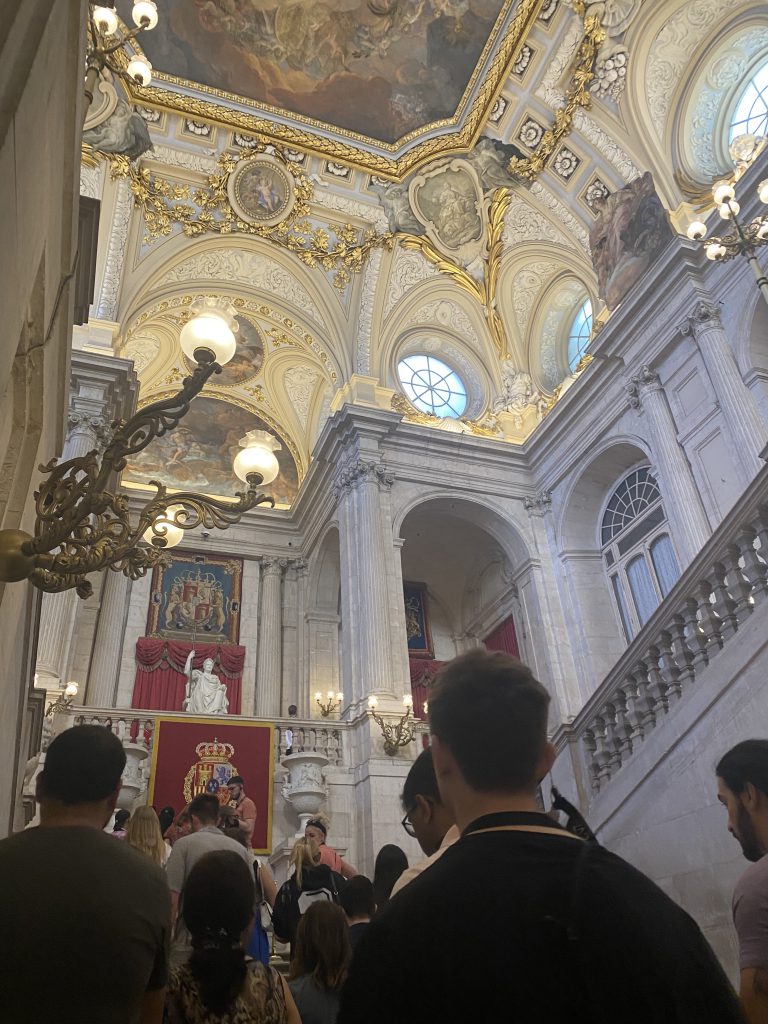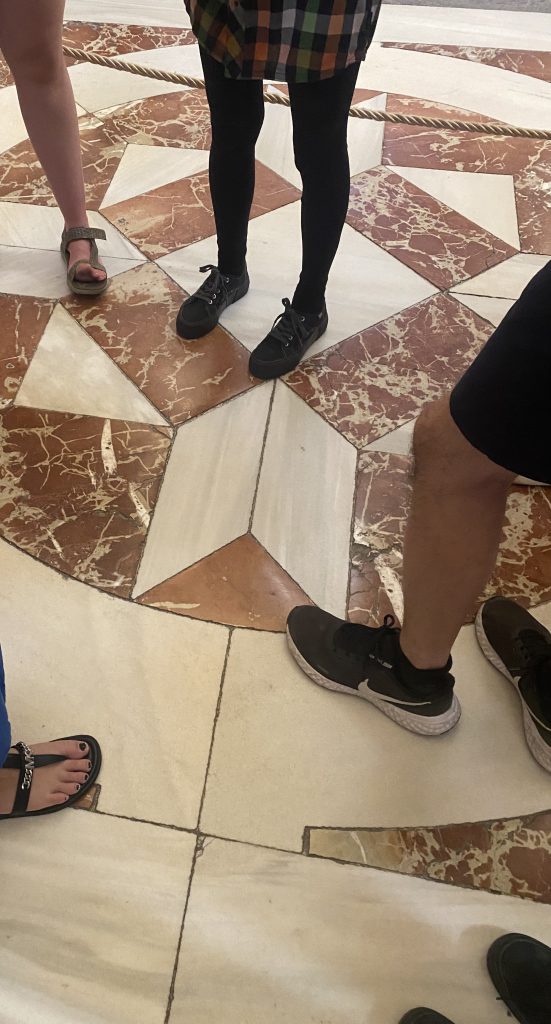 As someone who grew up in America, it was weird for me to process that Spain is still a monarchy to this day with Felipe VI as the current king as of 2014. The modern family portraits (painted, of course) in the palace seemed almost out of place, but maybe that's because the other royal portraits showed clothes that aren't common in this century.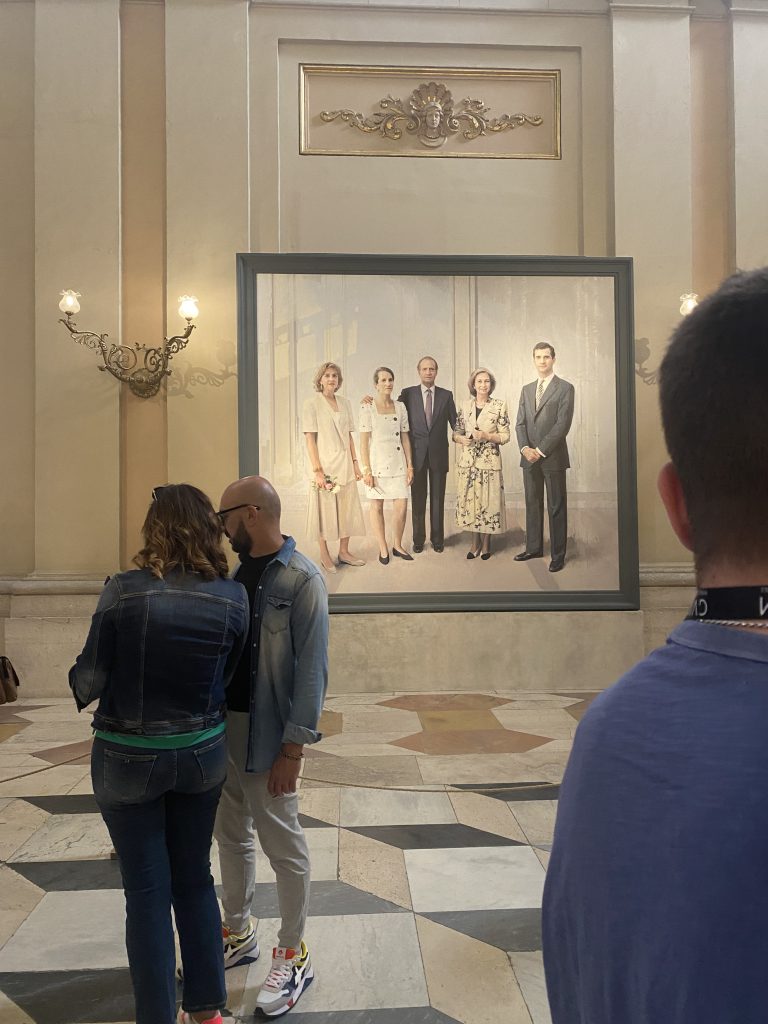 We briefly visited the Catedral de la Almudena that was right next to the palace. It was just a cathedral, but it was interesting to see it's beautiful architecture and stained glass windows, vividly colored in the afternoon sunlight. Although, the little rectangles (shown in the last photo in the following set) painted to represent the different tribes the cathedral "saved" with Christianity did not settle right with me.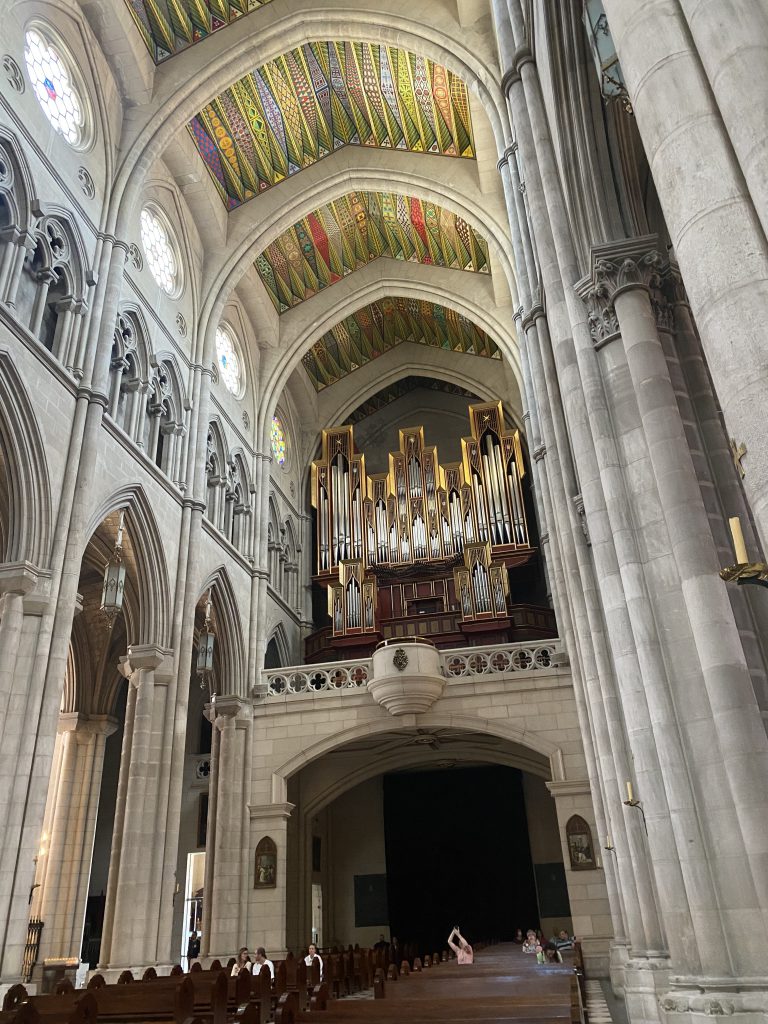 A Break
After the tour, we dispersed in different groups. A couple of us decided to eat nearby since it was lunchtime. El Anciano Rey de los Vinos was a restaurant recommended to us by Julian. It was right across the street from the cathedral. We were seated outside as birds hopped around our legs, looking for crumbs. I decided to have los huevos rotos, or broken eggs for lunch. Unfortunately, I did not take a picture of it as I promptly devoured it upon being served.
Then we decided to go souvenir shopping. It's my last full day in Madrid and I'm okay with spending my day like this. This is the true tourist experience.
After that, we went back to the hotel. I wanted to rest and reorganize my stuff so I had one less thing to worry about before heading home tomorrow.
Around an hour before we had to meet in the lobby for dinner, some of us decided to go to a candy store that was 10 minutes away. Sweetland had a very attractive aesthetic—a stark contrast with the stone walls and detailed balconies. The store sold all sorts of sweets including American cereals like Captain Crunch. I allowed myself to splurge (read: lose my self-control) and brought other flavors of my favorite candies and snacks for my sister and I to share.
The Farewell Dinner
We all met back in the hotel lobby at 8 PM and headed to the Gran Via metro. We got off after a couple of stops at Diego de León station. The streets were still bustling as we settled down at La Taberna de Peñalver. Apparently, this restaurant was known for their paellas, so we had to have it for our last dinner in Madrid as a group. It's safe to say that everyone devoured them, including the other dishes like los huevos rotos and croquetas.
We chatted into the evening under the tent at which our tables were set. The bright lights strung about added to the warmth of being around each other even with the cool night breeze.
Julian talked to us about traveling more outside of this trip—to explore other parts of the world as enthusiastically as we explored Madrid. I learned that I could walk more than I realized. I was never really the type of person to leave my room often. Even when traveling around to visit family or to take vacations. I liked keeping to myself. Having been on this trip with strangers—acquaintances, at the very least—forced me to step out of my social comfort zone since I wasn't great at making Spanish conversation.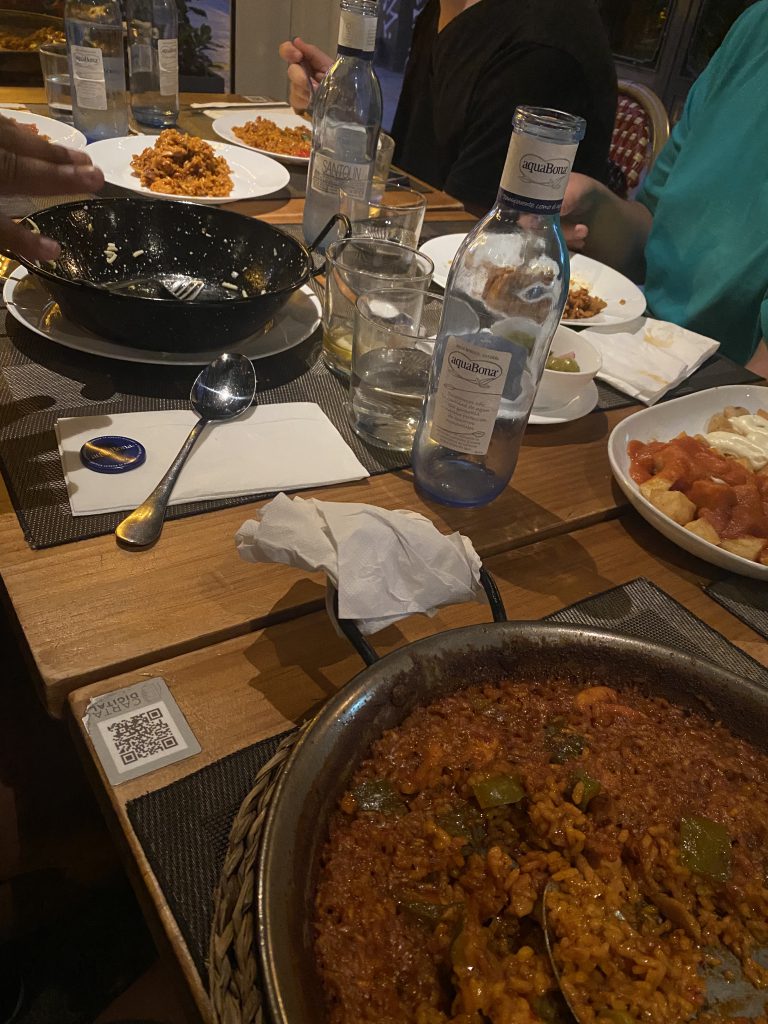 We said our goodbyes to those who weren't leaving with us at the same time. I went with a few others to the Metro to get back to the hotel for the last time. It was there in the near empty train that I begun to feel longing to return to Madrid in the future.