Our group began our day at Hotel Regina once again for breakfast. Breakfast consisted of buffet style with all sorts of delicious foods from traditional American breakfast such as eggs, bacon and toast to more European such as churros and more charcuterie style food. It was an early rise on our end as we needed to meet Maria Angelo and Professor Z in the lobby for 8:50 for the bus to Toledo! The bus stop being across the street and right outside of Hermes.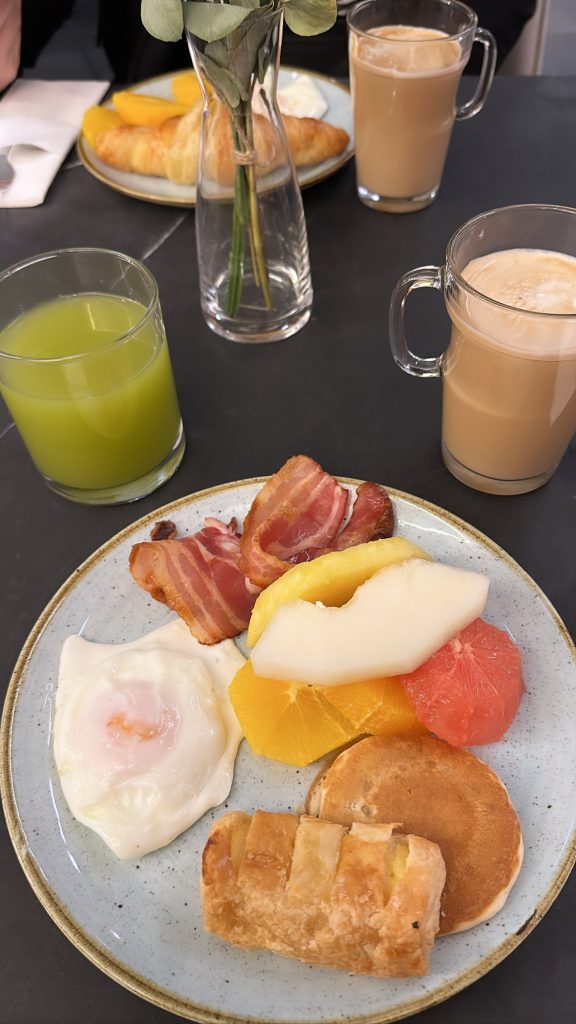 Most of us tired from the night before took it upon ourselves to use our hour bus ride from Madrid to Toledo to nap- as it was much needed in my case. We began our Toledo journey on a panoramic view of the city via bus with our wonderful tour guide. Our first stop was around a windy corner over looking the Maumee river and the city itself. The view was breathtaking and turned out to be a great photo op. We gathered together to take a few group photos and heading back on the bus to finish our tour.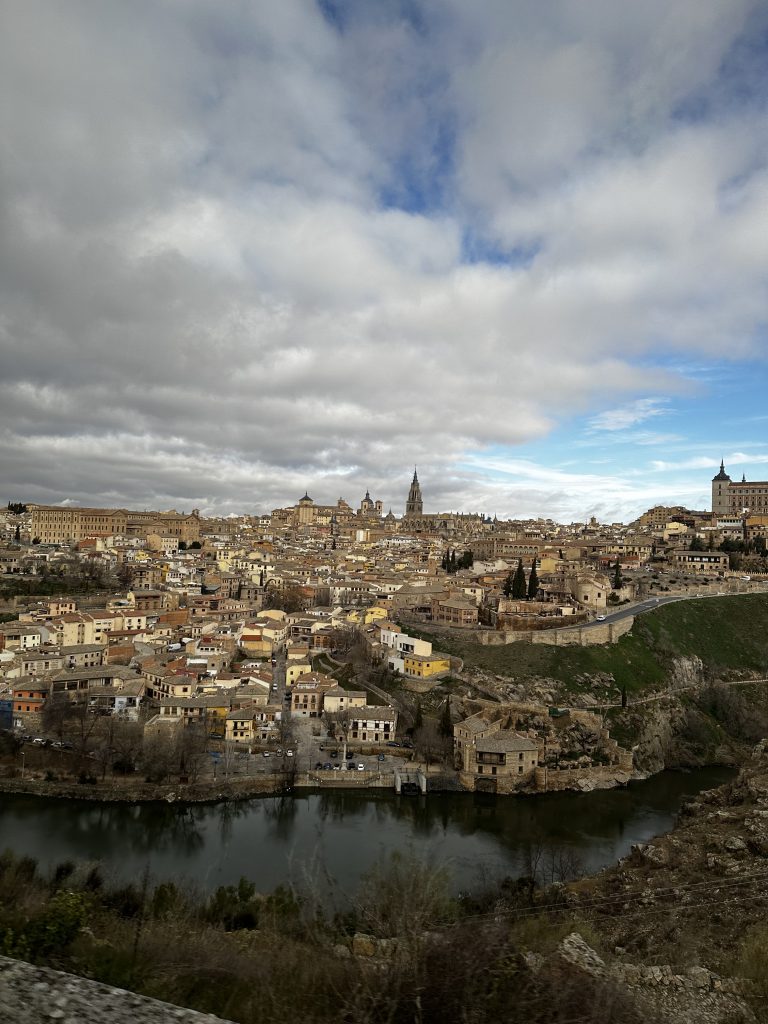 Shorty after, we hopped off the bus to start our adventure of the day. It was pretty cold but all the walking uphill definitely warmed me up. We walked around following our tour guide to come across the Monastery of San Juan de los Reyes. It was filled with beautiful artwork such as alter pieces and frescos. I was amazed at the attention to detail in every room we entered. It felt surreal.
We made our way through the city stopping at important historical and architectural points arriving at the Santa Iglesia Catedral Primada de Toledo. I can't even put into words the absolute masterpiece that this is. There isn't a place in this church that wasn't covered in the most intricate and delicate designs. The gold of the Corpus Christi was almost blinding. From the amaranth gem on top to the silver plated pieces on the bottom- it was one of a kind and an honor to see. The main alter piece had to be my personal favorite. The colors and perspective were greatly appreciated.
We made a quick pit stop at Taberna Tristana to grab some much needed espresso shots and use the bathroom. The view from this little cafe was out of a movie. We once again used this opportunity for a photo op.
After visiting churches and learning the history of the beautiful city of Toledo we broke off from the group to enjoy some food. Mia, Faith, Maria, Will, Sarah, Thiago and I landed on a place in the center of the city called "Niño Malo" where we enjoyed a Toledo original dish named Carcamusas Toledanas. We ended our lunch off with some pineapple ice cream and water. Experiencing a world of new food, drinks and overall culture has been truly eye opening.
We walked around some more, visiting shops, looking around and enjoying marzipan from Santo Tomé. We journeyed down from the hills through an escalator path. The bus arrived and we drove back for an hour to Madrid. Once again, most of us used this time wisely in napping. Upon arrival back to Hotel Regina, we split off to enjoy the rest of the cloudy afternoon.
After going to starbucks for a grande iced caramel macchiato, Will, Sarah, Tiago and I searched the streets neighboring our hotel for a place to eat tapas and drink. I enjoy people watching in the streets. It's amazing how different every individual we encounter is. We went to Tiki Taco Clavel to order chips and guacamole to hold us over before dinner. This place tends to be a quick stop for us, as the fast service and small portions makes it easy to come and go. Plaza Canalejas was our next destination where we enjoyed Calamari, Spicy potatoes and Tuna Salad at Fontan-Canalejas. The food never disappoints and the atmosphere of the plaza adds to the ambiance.
Later in the night after getting ready, we hopped on the metro near Sol after walking in the rain to get off in Malasaña. We spent our night at Teatro Barcelo dancing, singing and meeting new friends. It was almost as if we walked into another world. It was surpassing to me how many pop songs they played in English. After a long night of dancing we walked to McDonalds for a quick late night snack. French fries definitely taste better in the streets of Madrid. Walking home taking in one last glance of Madrid night life, we arrived at our hotel once again to go to bed.