On our fourth day in Madrid, we were given a walking tour of the city. Our tour guide Tino expertly gave us interesting facts about the history and architecture behind many of the buildings around the city. We walked to the Puerta del Sol where we saw the infamous bear and strawberry tree statue. I also learned that the Tio Pepe sign is a Spanish favorite. When Apple Co. bought the original building that the sign had stood on and wanted it removed, it was then transferred to another building in the plaza. It is also here where they gather during New Years and watch the bell tower, much like Americans do in the United States.
Fun fact: did you know that in Spanish tradition, many people get 12 grapes and listen to the rings of the bell at midnight on New Years. Each ring, they eat a grape and make a wish for the new year.
Tino then led us through Retiro Park. It was a bit windy, but when the sun came out from the clouds, I was instantly warmed up. The breeze carried the smell of the city and the grass, making the trees sway. The sound of the trickling from the beautiful stone carved fountains mixed beautifully with the chirping of the birds. There was so much to look at and take in.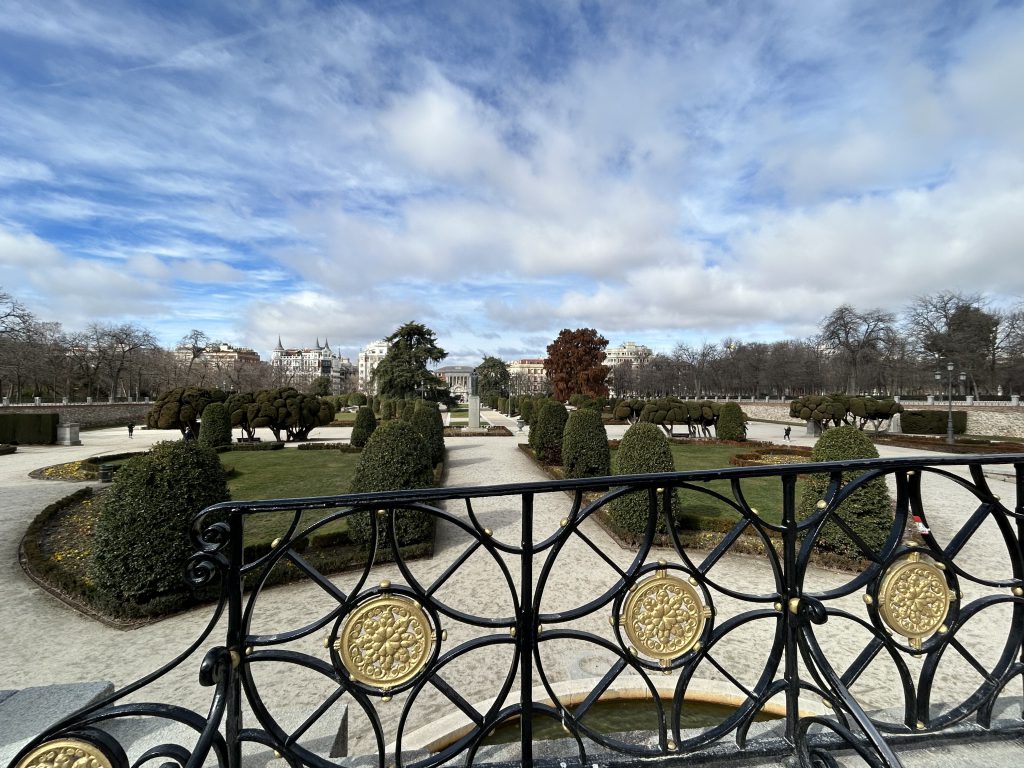 There is a building in the park called the Crystal Palace, and all I can say is- beautiful. There were geese and ducks swimming in the pond in front of it, small jets of water shooting into the sky, and even a group of turtles sunbathing together. The building itself was mostly all glass and domed at the top. I learned that it was originally designed by an architect named Ricardo Bosco, with the intention of showcasing tropical plants native to the Philippines.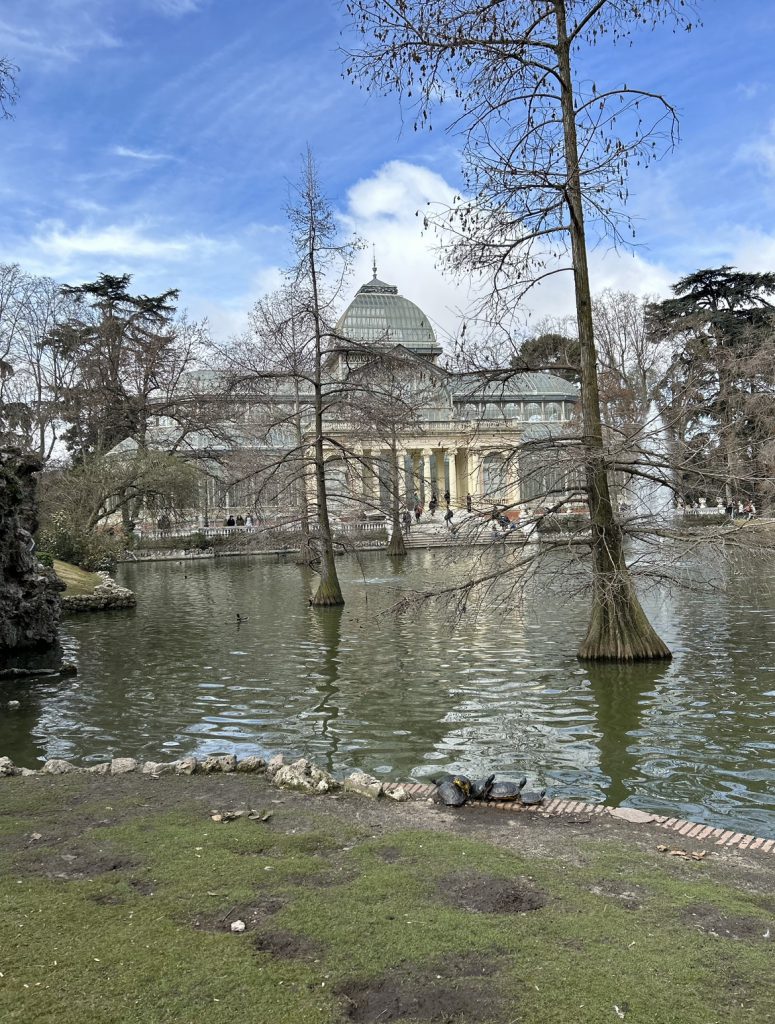 When the tour ended, all of us went to the waterfront in front of the statue of Alfonso XII. The excitement in the air ramped up as we rented our boats to take around, despite severely lacking rowing knowledge. Being the competitive person that I am, I instantly suggested holding a race between my boat with Brianna and Kiara in it, against Joey and Dalton's. It's enough to say that we lost with me rowing. After a quick training montage and enjoying the views from the water, we quickly held a rematch. To an optimist, the three of us had won because we laughed so much more, but if you're a stick in the mud, we lost. After snapping a few pics, we left and headed out for a quick bite.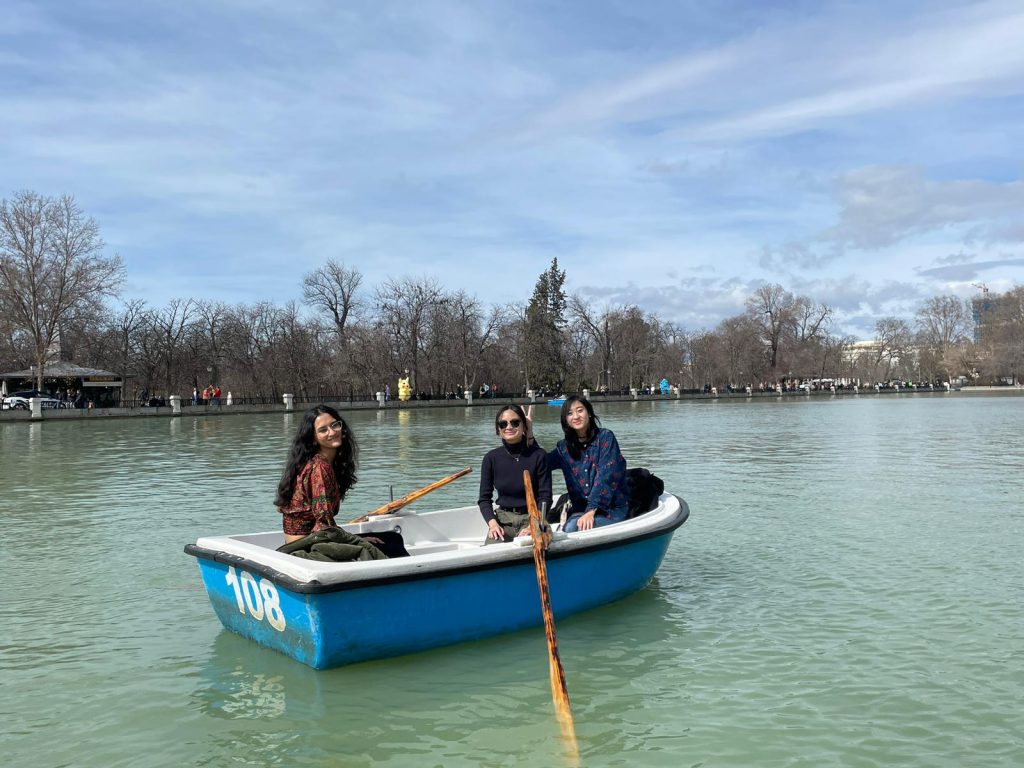 Once I got back to the hotel room to cool down a bit and get my second wind, I pulled out my journal to write about my time so far, and began a small sketch of the San Juan de los Reyes in Toledo. After a short siesta, the adventure ensued.
A group of 8 of us went out to try to go to the Prado Museum during its free hours, but we could not see the end of the line so we decided to go a different day. We decided to shift plans and go thrifting at Magpie Vintage, upon arrival we were very pleasantly surprised as the whole street was lined with other second hand clothing shops. Each store had curated stylish pants and tops and simultaneously had a unique vibe of its own.
We ended the night by eating at Restaurante Botín; it opened in 1725 and is the oldest continually functioning restaurant in the world. If you ever intend on visiting Madrid, please be sure to make reservations, especially if you plan to go in a big group. They are famous for their roasted suckling pig, which I shared with Brianna and Joey. The skin- perfectly crispy and not too thick, the fatty parts melted on my tongue, the meat- perfectly seasoned. I was not too squeamish about the fact that it was a baby pig, because in reality it's a dish that's very close to lechon from the Philippines, which I have eaten countless times. We had to take a flight of stairs down to our seating area, and in reality, you're also paying for the ambiance. I believe it to be worth it because there are pieces of decoration that look frozen in time, and the lighting makes the all brick walls feel warm and inviting.
In a short amount of days, Madrid has taught me more about myself than I thought was possible. The week leading up to this trip, my excitement was most definitely overshadowed by my anxieties of traveling seemingly on my own and having to navigate myself through a foreign country. I am a normally reserved person and severely opposed to change. But, I made it through the airport, I've made friends in record breaking time, and communicating just fine here. I realized that I am more of an adult than I thought I was and that I am capable. Additionally to these discoveries, I've found my boundaries and have specified where I am most comfortable and enjoy in life. But, what is life, if not to push yourself and take those steps out of that zone. Humans learn best through change, even though our instincts often tell us to stay where we are.
I hope to look back at my entries and reminisce about my first time here, because I know for a fact that I will be returning. No pictures I take here could ever describe how I felt in the moment, it's truly something you will have to experience yourself.