This year marks the first in-person Point of Care Showcase & Pitch Event since its debut in 2019. We're thrilled to have a panel of speakers that includes life sciences thought leaders and experienced point of care entrepreneurs.
The Showcase will occur at Mintz Law offices on Tuesday, June 6 from 2 – 6PM ET, only 15 minutes from the BIO Convention happening that week. The event will feature:
A fireside chat between two opinion leaders in life sciences innovation
Product pitches (and feedback from a panel of medtech investors and influencers) by the developers of 6 point-of-care devices that have received NIH grant funding through CAPCaT (the Center for Advancing Point of Care Technologies (CAPCaT) in Heart, Lung, Blood, and Sleep Disorders)
A panel discussion exploring best practices for startups seeking to tap into the resources of big medtech companies through strategic partnerships.
A presentation on small business funding opportunities and business programming available from the NIH.
The Point of Care Showcase is free and open to all members of the medtech community, especially startups, early-stage companies, and even students with just the germ of a life-saving, potentially game-changing idea. You can join the growing list of entrepreneurs and innovators by registering today.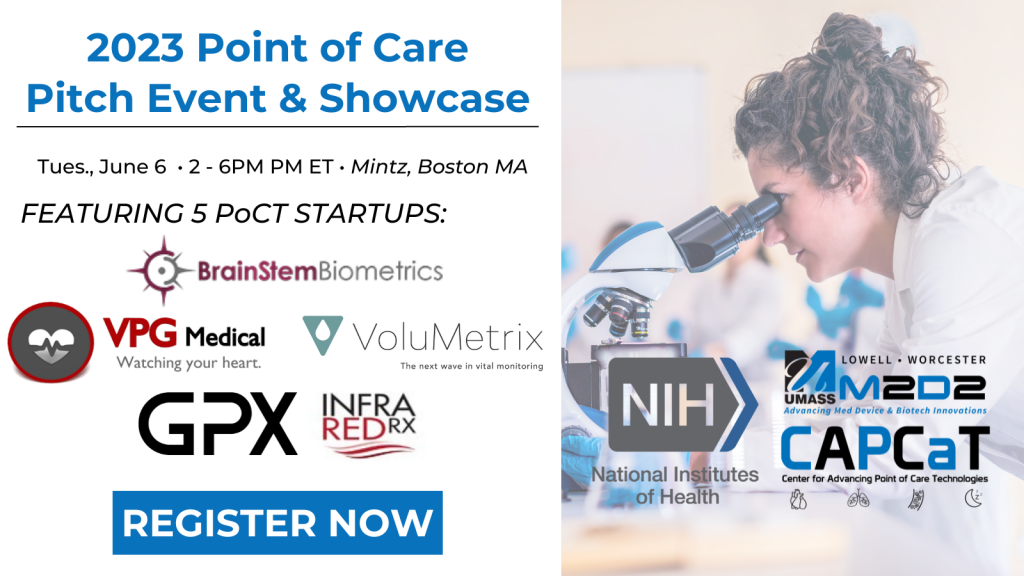 Meet the Speakers in Our Fireside Chat: Maria Berkman and Kadir Kadhiresan
Maria Berkman, MD, MBA, is the Head of the MedTech practice at Broadview Ventures where she manages the firm's MedTech investment strategy and activity. Maria is also the Managing Director of Longview Ventures, an independent investment vehicle focused on clinical-stage opportunities as a complement to Broadview's dedication to Seed and Series A financings.
Maria currently serves on the boards of Alleviant Medical, Aria CV, AtaCor, FineHeart, Puzzle Medical, RapidPulse, Vascular Graft Solutions, and Vectorious Medical Technologies, and previously served on the boards of Lyra Therapeutics (NSDQ:LYRA), Apama Medical (acquired), Remedy Therapeutics (acquired), and Capricor (NSDQ:CAPR).
Prior to joining Broadview Ventures, Maria was a management consultant at Monitor Group, and trained at Mass General Brigham's Newton Wellesley Hospital. Maria earned a concurrent MD from the UCLA School of Medicine and MBA from the Anderson School of Management at UCLA, graduating Alpha Omega Alpha.
Outside of Broadview, Maria serves on the Board of Advisors at the Boston Museum of Science, as a member of the AdvaMed Investor Working Group, and Co-Chair of the NEVCA MedTech Academy; Maria previously served as a VC Mentor for the UCLA Biodesign Fellowship, SBIR/STTR grant reviewer for the National Science Foundation, and as a Strategic Advisory Board Member for the RAD BioMed Accelerator in Tel Aviv, Israel.
"I'm thrilled to speak at the first in-person Point of Care Showcase on June 6. This event spotlights ongoing innovation in point of care technology. I'm looking forward to hearing the five solutions pitched by the 5 startups, and learning how they will answer current healthcare treatments and diagnosis needs."
Kadir Kadhiresan, PhD, is Vice President, Venture Investments, at Johnson & Johnson Innovation. In this role, he works closely with J&J leadership to identify business needs and has responsibility for sourcing, investing, and managing venture investment opportunities.
Prior to entering business development, Kadhiresan led the R&D of multiple early-stage technologies and products in cardiac rhythm management and heart failure. He was instrumental in the development of the cardiac resynchronization device for heart failure, now a multibillion-dollar product. At Heart Rhythm Technologies, a subsidiary of Guidant, he led the development of an ablation technology for treatment of atrial fibrillation and raised venture financing for the project.
He is devoted to advancing of the role of technology to improve and save lives and is often engaging in mentoring entrepreneurs to achieve their full potential.
M2D2 Director of Operations Mary Ann Picard said, "The Point of Care Showcase and Pitch Event serves two purposes: it highlights upcoming novel point of care technologies, and shares strategies entrepreneurs can implement to build strategic partnerships. I'm excited to hear the solutions pitched by our previous CAPCaT grant awardees and join these driven entrepreneurs in Boston for our annual event."
Join us June 6 from 2 to 6 PM ET — REGISTER HERE
About CAPCaT
The core mission of the Center for Advancing Point of Care Technologies (CAPCaT) in Heart, Lung, Blood, and Sleep Disorders is to support development and testing of promising "late-stage" point of care technologies that can be rapidly deployed to enhance the diagnosis, monitoring, management and/or treatment of heart, lung, blood and sleep disorders (NHLBI), with an additional interest in projects that incorporate complementary and integrative health approaches (NCCIH). These approaches include natural products, such as herbs, prebiotic, probiotics, and selective medical diets, and mind and body practices including acupuncture, meditation, manual therapies (e.g., spinal manipulation/mobilization), hypnosis, meditative movements (e.g. tai chi, yoga, etc.), and music/art therapies.