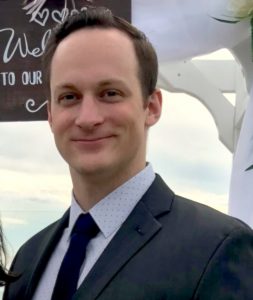 Meet Rob Shea, 25-year-old product development engineer at LaunchPad Medical and recent UMass Lowell graduate. He currently contributes to the exciting research and development of the first bone adhesive to treat fractured bone and stabilize metal hardware—or "Bone Glue"—which he says will hopefully be headed toward clinical trials soon. All that being said, it's hard to believe that only a few years ago, Rob was working in sales, under the belief that he didn't have a chance to do the type of work he was truly passionate about.
"My junior year of college in undergrad at Clarkson, my advisor told me that if I didn't get a Ph.D. that I would never design medical devices."
Dejected by this heartbreaking news, Rob completed his undergrad in 2015 and began working for a software security startup in sales. However, soon after his decision to go into sales, he started feeling like his potential was not being used to its full extent.
"I just needed something more," he said.   
Pursuing the Dream
He decided to pursue a master's degree—thinking it would give him a better chance to join a startup, or maybe begin his own medical device business—to the shock of his family and co-workers. "They all thought I was crazy. But I did it anyway," Rob laughed. "I started looking into schools like Northeastern and WPI—all really expensive—and they didn't really have that entrepreneurial feeling. I saw that the medical device incubator, M2D2, was part of UMass Lowell and that was what really hooked me. I thought, 'that's the place I want to be.'"
Not long after getting into the UMass Lowell master's Program, Rob became familiar with one of the startups working under M2D2, named LaunchPad. Intrigued by the idea of "Bone Glue," he knew he wanted to intern for the company that was developing it. The surprise? Rob's lack of a Ph.D. didn't seem to be a problem at all. In fact, Rob believes it was his entrepreneurial background and attitude that got him the job.
"I told them that what they were doing was exactly what I wanted to be doing. And that I wanted to learn from them and listen. I told them I was just going to work as hard as I could. And I guess that was exactly the attitude they were looking for, because that's the kind of attitude you need. In the R&D group, sometimes there are no set hours. You just work until you're done."
And he did. Day and night—considering he still had his master's education to think about—Rob was either working on projects for LaunchPad or for his classes.
"It was a lot of work, but I had the passion to do it."
From Intern to Full-Time
That passion didn't go unnoticed. It didn't take long for his supervisors to realize that Rob was a big asset to the company.
"I did more than the typical intern would do. For example, I started a lot of different analytical methods. I had a lot of knowledge and took on more responsibilities that a typical intern wouldn't. They watched me tackle the work head-on. I just kept asking for a position, and eventually, I was brought in full-time as a product development engineer in May 2017."
The moral of the story is happy news for any aspiring medical device engineers: After finishing his master's and working with LaunchPad full-time for a year, Rob can safely say that you don't need a Ph.D. to design medical devices.
"We actually just hired our first employee with a Ph.D. while there are already many employees."
However, the next steps for Rob may include the higher degree after all.
"My future plans include possibly getting a Ph.D. I'm 100% sure that later in life I'll start my own company. I have so many ideas and so many ways I think that I could help people."
A Steady Pace, and a Bright Future
For now, Rob is happy where he is. 
"I learn so much every day from the people around me. They've been so successful before, putting products on the market, putting products through clinical trials, making new products from scratch. There's so much going on around me right now. I'll definitely be here a while longer—learning and growing—until I'm ready to take on something of my own."
Right now, Rob says that LaunchPad actually has a fully functional product that dentists could potentially use. They're currently in pre-clinical studies and getting ready to take all their data and send it to the FDA, who can either approve or disapprove clinical trials.
A good idea is only the beginning.
Rob says that what's surprised him most about the medical device industry is how much more it takes to get a product to market other than just having a great idea.
"Coming up with an idea and building the product are only a small percentage of what you have to do to get a product approved and working. With the FDA, you have to have proper packaging, proper labeling, it has to be sterile, the surgeons have to be able to use it properly, and on and on."
Fortunately, we have tenacious engineers like Rob who are ready to jump through the hoops and put up with those challenges in order to continue evolving the medical device and healthcare industries toward a brighter future. With any luck, "Bone Glue" will soon be a commonly used product within healthcare, and Rob Shea will have helped to get it there.