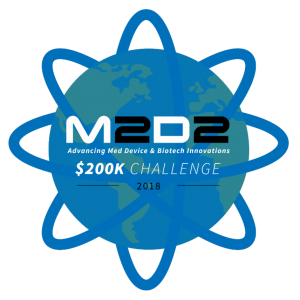 More than 100 entrants from around the world. Nineteen finalists. And awards worth a total of $200,000.
It'll all come together at the Boston offices of Mintz Levin this Tuesday evening, April 10, at the Award Ceremony and Networking Event for the 7th Annual M2D2 $200K Challenge. Everyone in the greater Boston medical technology and life sciences communities is welcome to attend. Or more accurately, encouraged—because some of today's most ground-breaking new medical device innovations will be vying for a share of the award purse. You really will see the future of life sciences tech!
Here are your M2D2 $200K Challenge finalists:
149 Medical: non-invasive real-time brain hemodynamics and metabolism monitor.
3D Tumor Targeting: non-surgical cancerous tumor treatment
Accelera: SRS wearable technology for joint injury, eldery balance and athletic performance markets.
Advanced Silicon Group: sensor to measure biomarkers in patients' blood to give early indication of trial success.
AM Protection: antimicrobial therapeutic for medical devices.
Bitome: non-invasive monitoring of human hydration.
CamMed: novel bandage-like, ultra-thin, flexible patch pump for delivering injectable drugs.
Cocoon Biotech: silk-fibroin as a drug delivery and materials platform.
DFTx: universal neurostimulation dosing platform.
Fairbanks Pharmaceuticals: transformative diabetes therapy that attacks the root cause.
Leuko: First white blood cell analyzer that does not require a blood sample.
Magoptics: intra-corneal implant.
MedKairos: bioptic platform to intervene during thyroid biopsies to ensure collection of diagnostic sample.
NE Breath Technologies: diabetes detection and management.
NERv: implantable biochip platform for detecting anastomotic leakage.
Nolen Ortho: novel tissue repair materials.
Prapela: non-pharmacological products that improve infant sleep.
Sleep Systems: non-intrusive positional obstructive sleep apnea treatment device.
Versatope: versatile delivery platform derived from recombinant outer membrane vesicles (rOMV).
What's at stake?
This year's award purse is the biggest in the seven-year history of the Challenge—and double last year's amount. The nineteen finalists, all early-stage medical device, diagnostic, and biotech companies, will be eligible for a share of $200,000 in sponsor-provided, in-kind services. These services include use of facilities including lab and office space; and engineering, product development, legal, regulatory, clinical, and business services.
Meet our keynote speaker
We're honored to welcome as the evening's keynote speaker Travis McCready, President and CEO of Massachusetts Life Sciences Center., a $1 billion public–private partnership with the mission of advancing the life sciences ecosystem in Massachusetts.  He directs and oversees the center's investment strategy, including the agency's operations, programs, and partnerships. In 2017, he was named one of Boston's 50 most powerful people by the Boston Business Journal.
He is a frequent speaker on economic development strategy as it relates to the convergence of private, public, and not-for-profit interests, and his blog, Life Sciences Discourses, has been recognized by The Boston Globe. Read bio.
About M2D2
M2D2 assists entrepreneurs in the medical-device and biotech sector in moving new products from concept to commercialization. It is a joint venture of University of Massachusetts Medical School, which provides medical expertise and assistance with clinical trials, and the University of Massachusetts Lowell, which offers expertise in business and engineering. The M2D2 has three locations, two in Lowell and one on the campus of the UMass Medical School.
The 2018 $200K Challenge sponsors are Johnson & Johnson Innovation, the Massachusetts Life Sciences Center, Amgen, Boston Scientific, Mintz Levin, MPR Product Development, and R&Q (Regulatory & Quality Solutions).
Thank you to our generous Challenge Sponsors!
Johnson & Johnson Innovation
Massachusetts Life Sciences Center
Amgen
Boston Scientific
Mintz Levin
MPR Product Development
R&Q (Regulatory & Quality Solutions)
Join us for the grand finale as we announce the winner of our $200K Challenge. Tickets are available at https://www.eventbrite.com/e/m2d2-200k-awards-ceremony-networking-event-tickets-43307428685.  Walk-up registration will also be available.