Nolen Ortho is one of 20  medtech  startups chosen as finalists in the 7th annual M2D2 $200K Challenge.  Founder/Inventor Darren Nolen tells the story of his innovation's journey from inspiration to the Challenge finals.
What is the innovation you've entered in the M2D2 $200K Challenge?
Nolen Ortho develops next-generation tissue repair materials using our controlled activation technology: bone glue, osteoporosis repair, spinal fusion.
What inspired you to develop your idea?
Starting with my work with tissue adhesives used in heart valve replacements, I have been driven to answer the limitations of tissue adhesive technology, the challenges associated with their use, and the reasons they were not used more broadly. I have long considered how to make tissue adhesives more useful, and how to expand their indications.
Even the most advanced polymer, if it cures to a homogeneous microstructure, will serve as a barrier to tissue ingrowth. No matter how adherent it may be to wound edges, if the adhesive is a barrier, preventing tissue ingrowth, wound healing will not occur, and our repair will fail.
Research into tissue adhesives is focused on advanced, novel, biocompatible adhesive polymers. That is all well and good, but it occurred to me that we already have many suitable polymers. Where we fail is in having a good activation method. We needed to control the microstructure of the cured repair material, and to do that we had to control the curing of the polymer.
What are the most significant barriers you've faced and overcome? 
My greatest challenge has been, and remains, time. I never set out to be an entrepreneur. I am just an engineer who happened to come up with a really, really good idea. I still have a mortgage and children and a very demanding day job. Relocating to Massachusetts has been a great help. I have been slowly making connections and recruiting people with the interest and ability to help. M2D2 and Mary Ann have been a huge help.
Can you share a "Eureka!" moment—a breakthrough in the development of your idea?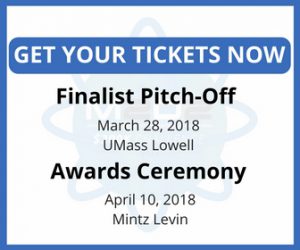 There have been a few:
My realization that the common problem preventing better, more effective, more widely used tissue repair materials was not the polymer itself (though that is important), but the method of activation.
My realization, inspired by my then-toddler son's misadventures with popsicles and my wife's joking challenge that I needed to invent a non-frozen version, that micro-encapsulation of a curing agent inside a lipid shell would allow us to solve that fundamental problem.
The moment during development when I realized this could make not just a new type of bone graft material, but an actual structural adhesive.
Finally, when I realized this material would be used in conditions such as osteoporosis, to prevent bones from breaking in the first place!
If you win, what's next?
What else, change the world!
Full speed ahead is what's next. With these new resources we will have demonstration material for investors. We will have additional IP to file. We will be moving quickly towards animal studies. We will be recruiting additional staff.
Learn more at www.nolenortho.com
You're invited to meet ALL the finalists in person at the Finalist Awards & Networking Event—Tuesday April 10 at 5:00 pm, Mintz Levin, 1 Financial Center, Boston
For more information and tickets, visit https://www.eventbrite.com/e/m2d2-200k-challenge-finalist-pitch-off-awards-ceremony-tickets-43307428685