After six days of traveling in and around Havana and Old Havana we traveled outside of the city on a three-hour bus ride to the town of Vinales. Driving through the different provinces was so different from the city. Instead of the crowded, busy streets with people all around we were on one straight "freeway" with a few lanes in each direction traveling fast and even saw a car driving down the wrong side of the road. Green grass, trees, and farms on either side surrounded the freeway as we drove away from the city. As we went off the main road, more houses appeared and became closer and closer together. The houses were simple yet colorful, such as orange or pink with an overhang over the front of the house so those who lived there would have a place to sit. It was interesting to see how many of the houses had their doors open even when it appeared no one was around. But, most of the time, there were many people out in front of their houses, either sitting or hanging up laundry on a line. It was so interesting to compare the differences of how they will leave doors open and spend time sitting outside. Where I live, everyone leaves their doors locked and it is rare to see people enjoying time outdoors around our houses.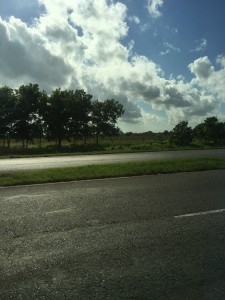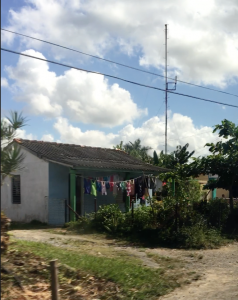 Once arriving at the tobacco farm we walked around and saw the plants and leaves drying. We were able to watch a demonstration of how the cigar is made from start to finish. The man made it look so simple and it was amazing to see the process for something that is so popular about Cuba. In the United States I would always hear about how great Cuban Cigars are, so I was happy to have the ability to see this process first hand.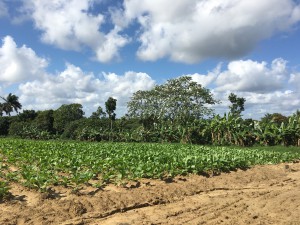 After seeing a prehistoric mural, a painting of dinosaurs in bright colors on the face of a large rock wall, we continued to a cave and took a boat tour through the caves. It ended outdoors on a river, but while in the cave, the guides showed us the different rock formations and had them imagine them to be different objects, such as tobacco leaves or a seahorse. At this same cave, outside there were multiple booths of individuals selling different souvenirs and wooden pieces of art. It was some of the first "tourist" items I've seen so far on this trip. After this we got back to the bus and started the ride back to Havana.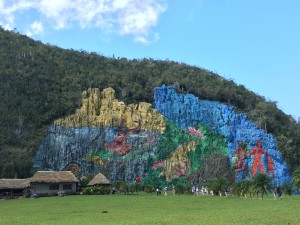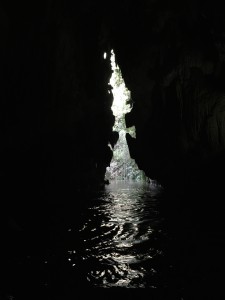 It was interesting to see a different part of Cuba from what I have seen so far. On day six, this trip seems to be blending together. The beginning of the trip feels like it was so long ago, however, at the same time it's going by fast. As I am here more days I am becoming more familiar with the streets and am learning locations and directions. In the beginning it seemed the area would be hard to get around and that transportation seemed complicated; however, this is changing as I feel more and more comfortable in this neighborhood and at the Residencia. By being more comfortable we are able to see more of the neighborhood and feel that I am getting more out of my time here in Cuba.
Being about halfway through the trip I know that as more days go on time will go by faster and faster. Through all the lectures and tours that we have I have learned so much about Cuba and am excited to see what else I will discover while I'm here.