As I prepare my belongings and field equipment to travel to Les Cayes, Haiti I feel overwhelmed at the opportunity alone and excited for the cultural shock wave that is about to hit me.  I transferred to UMass Lowell as a Sophomore and one year later during the Fall Semester of 2016, I met Michael Doane, who was working on a design for an anaerobic biodigester that can convert manure into methane gas and fertilizer. Biodigester-Aided Solutions in Haiti (B.A.S.H.) is a team effort that began as a 2016 DifferenceMaker project and continues the project through the university's Haiti Development Studies Center. Michael was seeking new students to join BASH after previous members left the University. I joined and intended on contributing fundraising ideas in order to travel to Haiti and implement the biodigester. Working alongside Mike, other Juniors at the time (Nicole Belanger, Owen Gannon, Alanna Grondine), alumni Maureen Kelly, and Service Learning Coordinator Linda Barrington we set out to revolutionize the sanitary infrastructure in Haiti. With the position I am in as a student learning civil engineering solutions to worldwide problems, I felt like I found just the right spot for myself at this university, and I had.
Maureen Kelly and Linda Barrington saw an opportunity to revamp the club, Civil Engineers for Change, as a platform for BASH and other engineering projects student wanted to become involved in. We dropped the "Civil" and became, Engineers for Change, and I was voted President!
After fundraising and winning third place in the DifferenceMaker's Engineering Prototype Competition, Nicole and Maureen traveled to Haiti in January, 2017 and came back with all the information we would need to continue the BASH effort. They visited Pwoje Espwa, an agricultural teaching orphanage in Les Cayes, Haiti that had an existing biodigester implemented. Unfortunately, the location of the biodigester was not in an area where enough substrate was accumulated in order to maintain anaerobic digestion. It was also mostly underground and definitely not going anywhere.
The director of the orphanage thought that biodigester would be best utilized at the pig farm which had 20 pigs. Therefore, instead of taking the approach of repairing the existing biodigester, we were going to replace it. From there, we began to research current biodigesters that would be easily portable. With the money we received from the UMass Lowell Chancellors 2020 Grant, we procured all necessary parts and began fabricating our design.
We worked together to build our pilot biodigester at Maureen's farm in Ashburnham, Massachusetts. The design is composed of parts we believe can be easily acquired in Haiti and can be modified to interchange any components that we later discover are not accessible.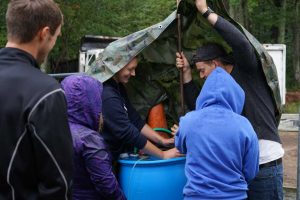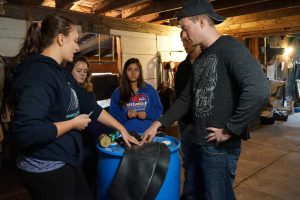 Currently, we are researching enzymatic co-culture digestion regimes that can accelerate the digestion process within the biodigester, which in turn will accelerate the production of methane.
During Nicole and Maureen's trip to Haiti in January, 2017, the director of the orphanage, Cameron, proposed the students take on a new project: a septic system for one housing unit that will be built as a part of Pwoje Espwa's Outreach Program. Challenge Accepted. Since we had minimal prior knowledge on how to design a septic system, this was a good opportunity to propose an Alternative Service Learning Capstone for seniors in the department of Civil and Environmental Engineering. The Service Learning Capstone was approved and will be taught by Dr. Onur G. Apul in the Spring of 2018. The Fall semester of 2017 included a technical elective, taught by Linda Barrington, and included 12 students. We learned about Haitian culture, U.S. septic design standards and Title 5, hydraulic conductivity tests of soil, cast in place tank designs, and so much more. I can honestly say I feel prepared to work with my team to engineer this septic system.
It is taken for granted the high quality sanitation infrastructure we have in the U.S. and the fact that in this day and age so many people are living among their own waste is troubling. Many of these children at Pwoje Espwa have never used a toilet before and have never even sat down to use the bathroom before. The fact is that open defecation contaminates food and water sources and spread disease causing pathogens, such as Cholera. We have an opportunity to use the resources and education we have as students to help. It is true that one septic system or one biodigester is not going to solve the problems of a country with about 11 million people. However, by introducing these technologies and teaching people how they work, they can be replicated and spread throughout the country.
On January 7th, 2018, I will be traveling to Les Cayes, Haiti representing BASH and the Haiti Capstone project with my fellow students Nicole Belanger, Owen Gannon, Austin Oliver, Chris Fraser, and alumni Maureen Kelly. I feel very nervous for what I am going to see, but hope that this experience will open my eyes to the problems Haiti is facing and what position I am in to help.
During this trip we will be staying at the UMass Lowell Haiti Development Study Center and hope to accomplish a few things for the Haiti Capstone Project:
The permeability/hydraulic conductivity of the soil at the site in which the tank will be implemented (via permeability tests)
Field notes of the site and a site survey
A list of resources/equipment accessible during the implementation of the design
More information about the housing unit, number of people using the system, amount of water used per flush, etc.
Perform a sieve analysis test on the soil
Gain contacts and resources from the local Camp Perrin Trade School
We will bring tape measures, paper, pens, sieves, a scale, clipboards and whatever else we can fit in our backpacks and make it work.