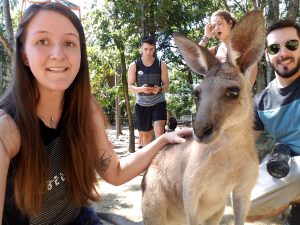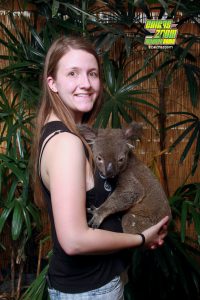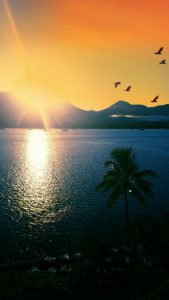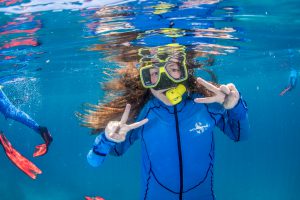 Hi everyone! I've been in Australia for nearly 2 weeks now and I'm finally settled and ready to write!
This place is like a dream. After nearly 30 hours of travel, I arrived in Cairns, the gateway to the Great Barrier Reef in tropical North Queensland to meet up with the other study abroad students from the program. Since I arrived 2 days before everyone else, I had a little extra time to conquer jet lag (15 hour time difference people!) and explore the area. I visited Cairns ZOOM at the casino next to my hotel for some ziplining and to meet some local wildlife (marsupials and reptiles galore – I even took a photo with a cuddly Koala named Micro). The real fun didn't start until the rest of the program arrived tho. As part of our orientation, we traveled north to Port Douglas to visit the Port Douglas Wildlife Habitat and the Mossman Gorge Aboriginal Community. At the wildlife habitat we were able to feed and play with wallabies and kangaroos and see a variety of other local Aussie animals up close – did you know there's such a thing as a tree kangaroo? Neither did I. After exploring the different habitats of Australia – woodland, savanah, and rainforest – we met back at the cafe for a quick lunch and headed up to the Daintree rainforest from there. Our aboriginal guides were waiting for us there to take us on a light hike through the rainforest their tribe has been calling home for centuries – the rainforest itself is one of the oldest in the world! Our guide pointed out different native plants and animals, including snakes, rainforest dragons, and the Milii Milii plant, which is similar to poison ivy but much MUCH worse (you have to pour urine on the rash to heal it). The rainforest is one of the most beautiful things I've seen since I've been here – it didn't even seem real, it seemed more like a movie scene from Avatar or Jurassic Park.
The next day was a free day for program students to make their own plans and explore on their own. Some of my new friends and I opted to go skydiving that afternoon. To anyone that's ever thought about skydiving and been too scared, all I can say is do it. It's an incredible experience and the views are to die for. 8 of us went up in a small puddle-jumper and, one after another, jumped out from 15,000 feet – it only took about 5 minutes to reach the ground from there. You don't even really have time to be scared before you land and want to go again! They also jump without a countdown so you literally can't over think it. I would absolutely recommend it and go again myself.
You may ask, how can you possibly go up from that? The answer is, you go down. Monday last week we went out to the Great Barrier Reef to snorkel and scuba dive. It truly is one of the 7 wonders of the world. It's difficult to fathom the amount of life in the Reef – innumerable fish and more variety of coral than you can imagine. We saw a few giant clams, tons of parrot fish and zebra fish, and moon jellyfish (which don't sting; one of the crewmembers on the boat dropped one in my hand. They're kind of slimy and gelatinous but they feel really cool). I was in the last group to scuba dive that day – we got to see sea cucumbers, sharks, and cuttlefish. My one complaint is the dive was too short – I could have stayed down there exploring for the rest of time and I don't think it would be enough.
Just like that, we were going to our farewell dinner to say goodbye and head to our host cities. Most of the program is here at the Gold Coast, but I have a few friends at Sydney, Newcastle, Perth, and Wollongong. Orientation week at my school, Griffith University, starts tomorrow and class starts next week. The adventure has truly begun!!