No. I am not only typing this blog post because it is extra credit.
We stated the day off going to class in the LHC 101 building here at BVB college. I thought we were going to blistering to lectures all day, but we had chai breaks in between classes which I definitely think every school in America should implement. Then we went to an indian wedding during our lunch break. It was not only extremely random but it was an amazing experience that I can gladly say I have crossed off my bucket list. The wedding was so colorful; from red to orange to yellow to pink. It was absolutely beautiful. It was a great and joyful celebrations filled with elders to babies dressed up in traditional indian clothing. On top of that we were fed a variety of delicious indian food. After crying from how spicy the food was, I washed it down with the gulab jamun, a small and sweet donut-like pastry. I can honestly say this small little treat is my new favorite dessert.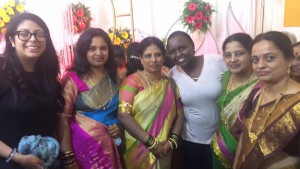 My awesome roommate Christine and I posing with some of the bridal party.
So like I said before, thats one more thing off my bucket list for this trip!!