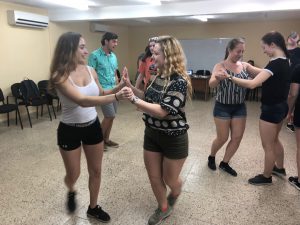 Night Life in Cuba
Having studied abroad twice now, I get asked a lot of questions regarding all kinds of things about both my San Sebastián, Spain, trip and my Cuba trip. One topic that I find particularly interesting to discuss is night life. I feel as if the night life of a place can come to define a people and their culture. This is immensely true in Cuba. A huge part of their culture revolves around music and dance. In fact, many dances originated in Cuba. Ever heard of the tango, the conga, or the cha-cha-cha? Aside from these, the two most popular styles of dance that I witnessed during Cuban night life were salsa and ballet.
The Cuban ballet is an extremely popular attraction, putting on shows typically on Friday and Saturday nights. I had the pleasure to actually attend one of the shows, and it was truly incredible; the auditorium was opulent, and the dancers were even more impressive. I was blown away by the beauty and grace of it all. It was definitely a worthwhile way to spend an evening.
The other dance I had a lot of exposure to was the salsa. Dancing the salsa did not originate in Cuba, but I believe that Cubans have absolutely perfected it. The salsa club we went to was definitely not what I expected; it was a stunning outdoor patio on the water, with a stage, dance floor, and trees throughout the seating area. The warm island air and the proximal water made the place feel care-free, and a lot less scary than what I expected a "club" to be like. Though this club was vastly different than the pristine ballet we attended, the dancing was just as impressive in its own way. I swear some of the dancers must have been professionals because they were blowing me away. Overall, it was probably my favorite night out of the whole trip. The entire crowd was kind and encouraging. Plus, I learned a lot of new moves from the locals that I hadn't learned in our salsa class.
Aside from dancing, Cubans love their music and their cuisine. It was not uncommon to see Cuban people sitting along the water on what's known as the Malecón, listening to music on a stereo. Or, even, making music themselves. And of course, bars and restaurants were hugely popular places to spend the night. There were plenty of cool spots to grab a seat at and enjoy the atmosphere. I found a lot of restaurants and bars were semi-outdoors, so it was very care-free and fun. Cuba is a very collectivist culture, so being around others in the community and spending time together seemed to be important to the people. This is what makes the night life so vibrant in this community. Overall, I found that I greatly enjoyed the night life in Cuba, and that the locals love to include tourists in their liveliness.