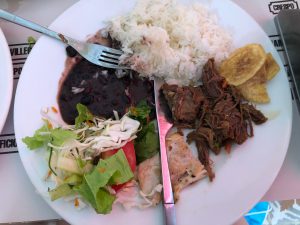 Food In Cuba
Before leaving for Cuba I constantly wondered what I was going to be eating. What foods grow there and how do they cook it? Would I enjoy it or would I have to rely on self-brought snacks night after night? Having studied abroad before, I figured my experience may be synonymous with that of the past: the same traditional breakfast every day and a hit-or-miss dinner I would have to eat either way. So I kept my expectations low and set off for Havana, where two weeks of culinary immersion awaited me.
However, upon arrival to Cuba, I soon realized that dining would be a whole different experience than my previous study abroad trip. All twelve of us students got to live in the same house, so meals were always enjoyed as one big group. It was definitely a highlight of my time spent in Cuba since we had so many great conversations and debates over dinner. Dinner was also served family-style, so you could take what you wanted and none of what you didn't. I loved this aspect because I always want to eat everything on my plate as not to waste any food, so I could take what was manageable for me.
Most importantly though, the food was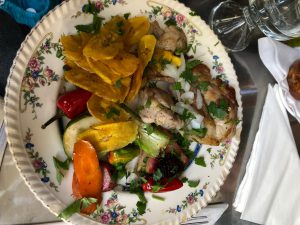 amazing. It truly blew me away. True to her reputation, our host mom Natalia really was the best cook on the island, and I often found myself preferring her meals to ones I bought on my own. Every meal consisted of multiple dishes, mostly including staples like rice, beans, chicken
or pork, ropa vieja (a group favorite),
green beans, beets, tostones, salads, and plenty of delicious soups. Breakfasts included items such as eggs, bread, guava, watermelon, papaya, pineapple, muffins, crepes, a fresh toast of sorts, and coffee. Natalia always went above and beyond, but even then she would ask if anyone wanted more of any of her dishes. She also frequently made desserts such as jello, pudding, flan, or bought us ice cream from the internationally renown Coppelia. Being back in the States I can say that I truly do miss the food in Cuba. I genuinely looked forward to every meal and found out how much I loved such seemingly simple things like bean soup with rice.
There are also plenty of times that we ate at restaurants while on this trip. Every meal I had was so delicious and well cooked. Some foods we ate include the following (as shown in the photos below):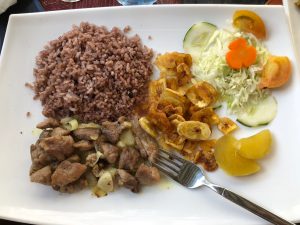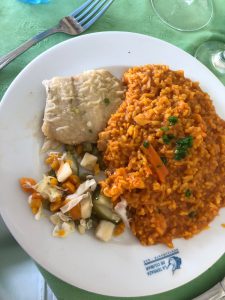 Now, for all of my picky eaters who may not be sold yet, let me reassure you that you will find plenty of food you love or grow to love on this trip. I am definitely on the picky side, and before going to Cuba I think I had eaten beans once in my life. These days, I legitimately crave them. So don't be scared to try new things! Because if anyone can make a tasty bean and rice dish, it's the Cuban people, and especially our host mom Natalia.
Looking back, I think much of my authentic experience was based around the food I ate.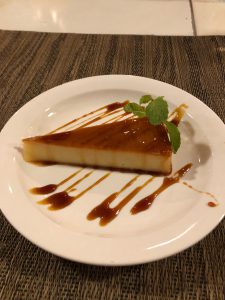 Cuisine is such a cornerstone of any culture, and I felt that the Cuban people really embraced us through their dishes. Not only were we offered tasty, well-known dishes, we were also offered an invitation to join the Cuban people around us in their dining experience. At restaurants we were often swept off our feet by the band that was playing, and ended up with an instrument in hand or dancing to the beat. Cuban restaurants have a way of making you feel so welcome and included, and in that way, they are a perfect mirror of Cuba itself.