Buongiorno Firenze!
After a tiring flight, we were all excited for the adventures to come. Day one began with an unexpected hike up 414 steps up the Bell Tower at the Duomo. The Duomo seems unreal. I cannot even imagine the amount of detail, precision, and time needed to create a church like this, and can only imagine how insane the inside must look like. The view from above the city kept getting better and better on our way to the top. Florence is beautiful. The contrast in the rustic yellow/green architecture next to the blue sky is breathtaking. Everything looks like a picture, it's incredible.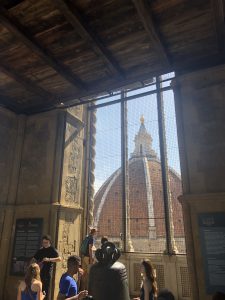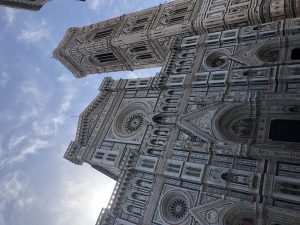 We proceeded our day with some of us attending the Baptistry and some headed to the art store with Regina. This little local art store called Zecchi had so many beautiful pigmented colors, something I have never seen before at that scale. We then headed to Eataly for a group lunch for pasta and pizza!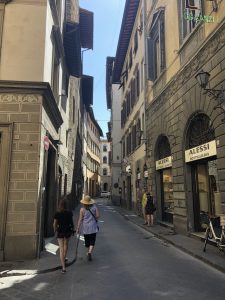 After that, we all split up and explored the city for ourselves. As we walked we stopped by a church, whose outside did not give the inside beauty justice. There were a few paintings that seemed to have been recently restored, looking more vivid and bright. We went through the streets, walking by famous high-end stores like Coach, Fenti, and Versace and it's crazy to think of the contrast between this new fashion world so tightly connected with the antiquities of the past, which still prosper and amaze us today.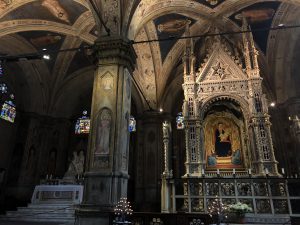 We adventured to the other side of the city, crossing the Ponte Vecchio to attend the Fashion Museum at the Palazzo Pitti, home to the Medici Family during the reign. The museum holding some beautiful dresses and pieces of clothing dating to more recent decades, each with systematic themes. The museum also had showcased clothing from the Medici family themselves, in the delicate state that they were able to be kept remained intact.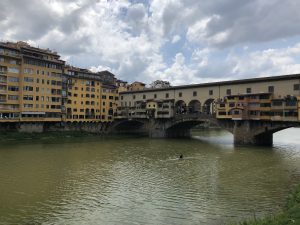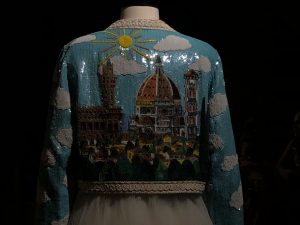 From there, we headed our walk back to the hotel along the river and had a nice family dinner at a local restaurant after being lost for a little while. But happy accidents occur and this place was quite a find.
First full day in Florence was beyond an experience. There is so much culture and it's amazing to see how different it is from our little world back in Boston.