Classes have officially started and the campus is buzzing again with activity. It is truly great to see. Having been in the education "business" for over two decades, I truly enjoy the renewal each fall season.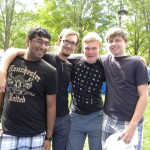 The College welcomes 829 new undergraduate students this year, with 577 freshmen and 252 transfer students. The total represents a 6 percent increase in new undergraduate students over last fall, including a 13 percent increase in the freshman class. The boost in enrollment was aided by the launch of our new Biomedical Engineering program, with an inaugural class of 40 students.
The Biomed freshmen class boasts the highest High School GPA and second highest SAT score of any incoming major on campus! Additionally, it has an equal number of men and women.
Mechanical Engineering remains the most popular major, with 137 freshmen and 81 transfer students, for a total of 218 new majors. However, the Department of Electrical and Computer Engineering is seeing the greatest increase in students among its two ABET accredited degrees, with 240 (159 freshman and 81 transfers).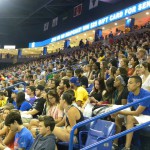 While the growth in our programs is exciting, as it validates the hard work of our Faculty in delivering high quality programs, I am more excited about the continued growth in the quality of our students. The incoming freshmen class has an average High School GPA of 3.7 and an average SAT of 1221. Additionally, this class is 19 percent female, representing a 3.6 percent increase over last year and a 5.1 percent increase over two years ago. This is a trend that I hope to see continue.
I look forward to a wonderful 2016-17 academic year!
— Joe Hartman