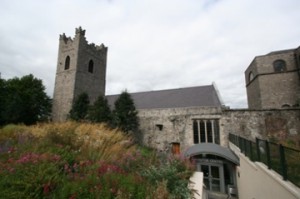 http://static.sacred-destinations.com/img/158/gohistoric_17851_m.jpg
About three days ago, our group ventured into St. Audoen's church. It is one of Ireland's oldest existing churches, having been founded over 800 years ago in the late 1100's. The experience was amazing. I have been to several ancient and historic places during my time abroad over the years, but sights like these never cease to seize my utmost appreciation.
Aside from the modern museum-like atmosphere that had been added to St. Audoen's, stepping into the church felt as if I was stepping back into the era of the Crusades. Stone walls seemed to keep me stuck in a time that wasn't my own. The artistry of this church was different than most of the pieces of modern architecture that I'd seen in Ireland. St. Audoen's contained many mysterious passageways that could have held many interesting things at their end. However, most of those passageway were blocked off by security gates. It was interesting to discover that the church had crypts which contained people who had died over 800 years ago. Stone tablets marked their graves, and I could not help but think back to the film of Indiana Jones and the Last Crusade. In one scene of the movie, Indiana is searching for a stone tablet in the crypt of an ancient knight. The parallels that my journey was having with Indiana's sent a thrill of excitement through me.
Visiting St. Audoen's reminded me why I love to travel so much. I get to see amazing sights that many people would only dream of encountering, and I am able to feel as if I am experiencing the same kind of grand adventures that heroes throughout fiction and history have endeavored upon.