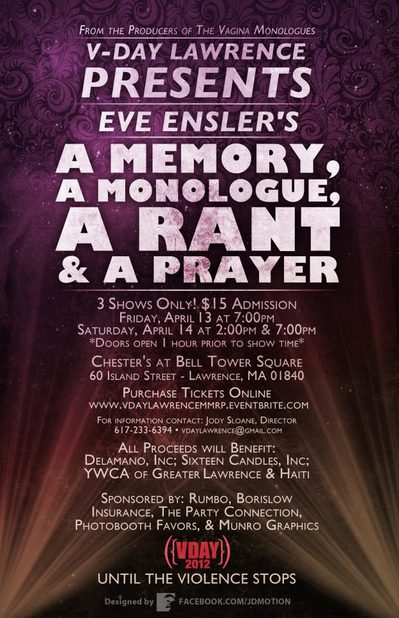 ONE WEEK AWAY! Please
forward to friends and colleagues. Spread the word!!
Attention CSPers!
Please come, support this event, support the beneficiaries, support the cause, and support a classmate (I'm performing one of the pieces in the show). I'd love to see you all there! Details are on the attached poster. Please forward this to friends, other classmates/groups and spread the word!
From
the Producers of The Vagina Monologues
V-Day Lawrence presents:
A MEMORY, A MONOLOGUE, A RANT & A PRAYER
3 Shows only! Friday, April 13 at 7pm & Sat, April 14 at 2pm & 7pm
JOIN US! Get your tickets today! $15 Admission
Buy your tickets here:http://vdaylawrencemmrp.eventbrite.com/
Thanks so much!
Mirakel G. Mayoral