Peter W. Adler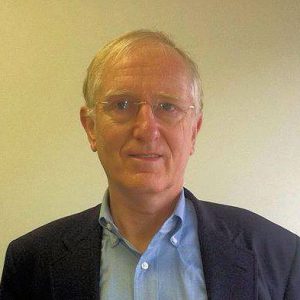 Three years ago, my daughter Christy spent a semester in Copenhagen studying Globalization, essentially International Business.  She soon started sending back rave reviews about the city, Denmark, her program (DIS Study Abroad in Scandinavia), and her host parents.  When the semester was over, my wife and I visited Christy for only two days, but we really liked Copenhagen too.  So, when I started teaching at UMass Lowell in the fall of 2015, I offered to lead a study abroad program in Copenhagen, to give business students at UML a similar experience and to return to Denmark myself.
Thanks to a lot of support from Stuart Freedman at the business school and Fern MacKinnon, an organizational wiz in the Study Abroad office, emails went out to undergraduate business students and I posted a flyer.  About a dozen students expressed interest, and fortunately six signed up, including one who saw the flyer the day before the deadline to apply, as six was the minimum number needed to run the program.
The Students.  I already knew two of the six students, Dave and Jena, who had done well in my International Law class last fall.  About one week before the departure of "Team Denmark", five of us including Nikhil, Ryan, and Drew met for an orientation, and I was impressed by how attentive everyone was given the many items discussed.  A dust-up of activity ensued validating passports, getting chips in credit cards (imperative), buying a little Danish currency (rarely needed), trying to figure out how to make our cell phones work (unlock the phone and buy a SIMM card in Denmark), learning about the weather in Copenhagen during the spring (cool, rainy, and unpredictable like Boston), and in one student's case, getting a required immunization the day before departure.  Finally, we all convened at Logan airport, I met Nicole for the first time, and we were on our way!  It was Ryan's first trip outside the USA.  Not long after takeoff, I was watching the sun set over the many lakes of Nova Scotia en route to Düsseldorf and Copenhagen, bringing back memories of having left on my own study abroad program to Europe many, OK many many, years before.
Arrival.  We bonded early the next morning in Germany when one of the students said that the airport was much bigger than he had expected for Iceland.  This was just one of many bloopers to follow that we all had a laugh about.  At the airport in Copenhagen, a DIS representative greeted the students and took them to their housing and a welcome dinner.  Meanwhile, after some difficulty buying a commuter ticket from a machine with instructions in Danish, I took a train to Roskilde (good luck pronouncing it), about 25 minutes away, the former capitol of Denmark and Viking Central more than 1,000 years ago, thanks to a kind invitation to stay with my daughter's host parents from 2014, Max and Inge, whom we had met in Copenhagen and hosted in America the following year.
Classes.  Thankfully I had not scheduled a class for the next day, Monday, as we were all so jet lagged, but the students still seemed surprisingly tired on Tuesday.  They claim that this was due to construction and a jackhammer right outside their rooms at 6 a.m., but they also mentioned having met and befriended zombies in a bar.  It turns out that young Danes get into costume at every opportunity, and it is not uncommon to encounter Vikings, Vulcans, Orcs, and other aliens battling in the parks.  In fact, the costume store was right across from our classroom.
During the first class, I learned that we have a culturally diverse group, as is the norm at UML, one reason that I like the university so much.  Nikhil lives in India and Dave is of Indian origin too but a US citizen; Nicole is a dual Colombian-American citizen; Drew is of Irish descent dating way back; and Giovanna (Jena) is of Italian origin.  What about Drew?  When filling in the spreadsheet during the first class about how international we are as a class, Drew said that I might as well merge the cells and enter All American, so I did.
Warp Speed Classes and Praiseworthy Participation.  I had assumed that teaching International Business in only three weeks and for the fifth time would be less arduous than usual, but it would have been impossible to compress a four-month course into 14 days without talking as fast as the Fed Ex guy from a famous 1981 commercial.  DIS and I also had scheduled 4 guest lectures, 2 company visits, and 1 field trip, so that further reduced class time.  I also had to teach two classes per day instead of the usual one, and in less time per class.  As a result, it still took me all morning to prepare for classes.  In a way, though, that forced me to focus on the most important topics in International Business and to use the best Harvard Business School cases.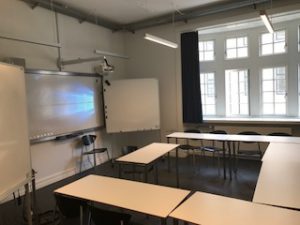 In my experience, the smaller the class size, the better, so from my perspective at least, six students turned out to be an ideal number for this first study abroad program in Copenhagen.  The students quickly became comfortable with each other and with me; they talked much more often than usual in class and at greater length; and everyone seemed to gain confidence speaking.  I was really pleased with how actively everyone participated!  Even one student who rarely volunteered began to talk when prompted.  Near the end of the three weeks, after asking teams of two to write bullet points about the causes of the Great Recession on whiteboards, before discussing how that had led to international financial contagion and to the collapse of Ireland and Iceland, everyone made excellent impromptu informal presentations.  The classroom supplied by DIS was excellent as well, and included a "Smart Board", not quite smart enough for a novice to use without instruction, but it allowed for enthusiastic gesturing while swiping from one slide or webpage to the next.  I marveled about how comfortable I am teaching now compared to my first day, a long time ago it seems, when I did not budge from the podium.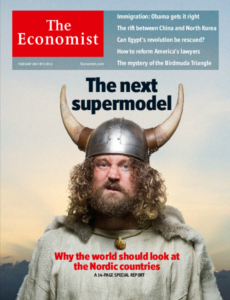 Guest Lectures and Field Trips.  Of course, part of the educational experience of the Study Abroad program in Copenhagen was learning about Denmark and its economy and businesses.  Denmark has been in the news in recent years:  in 2013, The Economist called the Nordic countries a possible next supermodel for the rest of the world, writing, "If you had to be reborn anywhere in the world as a person with average talents and income, you would want to be a Viking. The Nordics cluster at the top of league tables of everything from economic competitiveness to social health to happiness."  Indeed, Bernie Sanders ran for US president on a platform—popular with many UML students—of trying to make the US more like Denmark.  The UN also consistently ranks Denmark as one of the happiest countries in the world.
In class, we discussed a popular HBS Business School case, "Denmark:  Globalization and the Welfare State", which asks how Denmark can be so prosperous when it is a welfare state.  A guest lecturer also addressed the question, and he posited that perhaps Denmark is prosperous because it is a welfare state.  Child care is heavily subsidized, so parents with young children can work a full day knowing that their children are being taken care of well and learning social skills.  Danish workers are well paid (the minimum wage is $20 per hour), working hours are light (35 hours per week), holidays are generous (5 weeks plus usual holidays), and everyone gets a pension and can retire comfortably.  Businesses in turn are free to terminate workers at will, unlike France, and when they do, the unemployed receive generous unemployment benefits for two years and free graduate school and employment training.  Thus, when businesses fail in Denmark, new businesses arise in their place, and the companies can call upon the pool of well-educated and highly motivated people to perform the new, more profitable work.  This seems wiser than the policy US policy of propping up dying industries such as coal.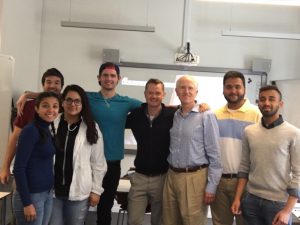 Relatedly, we heard an inspiring guest lecture by Peter Mühlmann, the founder and CEO of Trust Pilot, where customers rate ecommerce sites.  His company has raised $135 million in venture capital funding since 2007 and it is on track to go public.  Peter said that the Danish system encourages entrepreneurship because if a startup fails, the founder can easily get a good paying job anyway, and at worst he or she will receive two years of generous unemployment benefits and can go back to school.  It would be hard to find a friendlier CEO than Peter; he even arranged for the students to meet with the head of Human Resources, and offered to help in any way with their careers.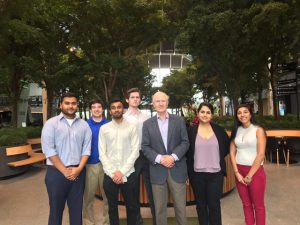 We also had an interesting discussion about how Danish businesses can be successful when Denmark is small with only 5.7 million people and few natural resources, surrounded by economic powerhouses such as oil rich Norway, the United Kingdom, France, and Germany.  Danish businesses tend to be leaders in niche industries.  For example:  Vestas is a leader in wind power; Novo Nordisk in diabetes research and care; and Lego in toys.  The Crowne Plaza Hotel in Copenhagen, which we visited, has created a niche for itself by being a leader in environmental sustainability and Corporate Social Responsibility.  The hotel hires and trains unemployed and otherwise shunned immigrants, who then become extremely loyal employees; the hotel features floors made from the rubble during construction, recycled wood, and solar panels; customers can get a rebate if they do not want their room cleaned on a given day; the restaurants offer locally grown organic food; etc., etc.  Moreover, by being environmentally and socially responsible, the hotel attracts upscale guests who share those values, and being green reduces operating costs and increases profits.  Instead of denying climate change, the US would do better by following Denmark, Sweden, and China, which are in the forefront of alternative and renewable energy development and use.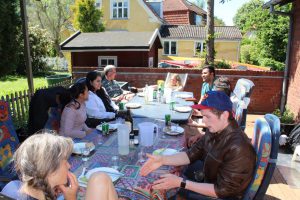 Viking Day.  The students then visited Roskilde for a day.  Max Meidahl first led a tour of the ancient cathedral where most of the kings and queens of Denmark are buried.  Inge then prepared a tasty and healthy Danish meal for us.  In the foreground of this photograph, Drew is denouncing President Trump to Inge, and in the background, Inge's daughter Lise is basking in the rare glorious sunshine and 70 degree heat.
Next, we visited the Viking museum, where the three real Viking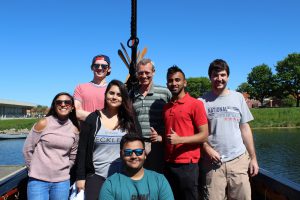 ships are on display.  Exhibits recount how more than one thousand years ago, the Vikings traveled and traded as far away as Newfoundland (in fact, they reached the lower Hudson River) to the West and Constantinople to the East.  We also went on the 55-foot Viking cargo ship shown in this photograph with the great Dane and guide Max in the center.  Several students warned me not to trip over the many wooden thwarts across the ship, and as I stepped off the boat, I heard a loud crash:  one of the students had tripped, and fortunately his face had landed between the thwarts.  We returned to Max and Inge's home for cake and instant coffee, then the students headed back to Copenhagen.  The weather was great and it was just a perfect, memorable day.
Copenhagen!  Everyone really enjoyed the city.  It is manageable in size and European in flavor, with inviting outdoor cafes (again, wear layers!), a mix of modern and ancient architecture, beautiful canals, and a good subway system for getting around inexpensively.  There are many interesting things to do in the city and lots of time in the day to do it as by late June, it stays light until 23:00.  One student confessed to having a little trouble translating European time, so I was gratified when she showed up for class at the announced start time of 13:30.
A few days before the end of the trip, we all bought "Copenhagen cards", giving us access to many venues at no extra cost.  We went to the zoo, the planetarium, and Tivoli, a famous amusement park and gardens.  At the start of the trip, there was talk of a big farewell dinner at the end, but by that time, most students had run out of money.  We settled for the inexpensive, favorite, all you can eat for 85 Kroner dalle valle restaurant:  two students ate first at the dorm, and the rest used free meal coupons.  I felt wealthy being able to buy a bottle of wine for the table.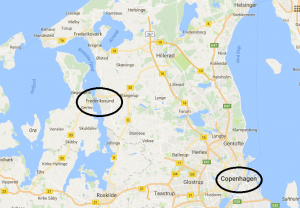 Transportation Troubles.  We and especially I had essentially endless transportation troubles.  One day, we faced a choice of walking 6 kilometers and about 40 minutes to the zoo in Copenhagen, but our observant student leader of the day noticed that we could take the train to Frederiksberg near the zoo instead.  Another student and I offered to check his calculations, but he said that would be unnecessary; we were all set.  So we got on the train, set to talking in small groups, and before we knew it, we were seeing fields, cows, and windmills, and no houses let alone office buildings.  We had made it all the way to Frederikssund, 45 kilometers away on Roskilde Fjord, near the North Sea!  Once back in Copenhagen, two hours after leaving it, and after visiting the zoo, the six students got on a bus to Tivoli, but the door slammed shut on my arm.  I barely managed to extract it before the bus took off.  The bus went quite some distance before stopping, thanks to Jena shouting to the bus driver that he had left the professor behind.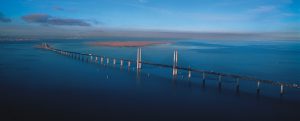 Sweden?  Another day on the train home to Roskilde, or so I thought, I saw a huge expanse of water for the first time, and stupidly asked another passenger whether the train was going to stop at Roskilde.  She laughed and said, "Roskilde?  You are going to Sweden!"  I was on the 10 mile Øresund Bridge connecting Copenhagen and  Malmö.  Upon arrival in Sweden, I asked the conductor how to get back, he pointed to another train, and as I was running up and over the tracks to catch it, a bystander shouted out, "Why do you want to go to Denmark?  Everything is better in Sweden!"  Evidently there is some bad blood between Danes and Swedes, given that there have been 11 Dano-Swedish wars since 1521 and Denmark once owned Sweden.  On the train returning to Copenhagen, the Swedish conductor asked me for my ticket, so I produced it, but she responded icily, "That is a Danish ticket; where is your Swedish ticket?"  That was an unpleasant day.
The Unfortunate Biscuit Incident.  Another day I was about to step on an escalator down to the train platform when someone said something to me in Danish while handing out a free sample biscuit in a plastic wrapper.  I said sure, thanks, and got on the train.  After settling in, I took the snack out to eat it, and the passenger across from me asked, "Do you know that you are about to eat a dog biscuit?  It helps clean their teeth."  Indeed, upon closer inspection, at the bottom of the package there was indeed a picture of a smiling dog with exceptionally good teeth.
Then the conductor came by and said something in Swedish.  I showed my ticket and she shook her head.  The passenger said she wants to see your passport.  The conductor then told the passenger in Swedish to tell me in English that this half of the train is not going to my destination (Göteborg), and that I need to move to the front of the train, which was many cars ahead. These language troubles and cultural misunderstandings seem inevitable but they were good for a laugh, at least during a three-week program.
Safe and Sound.  I really enjoyed the teaching in Copenhagen, feel fortunate to have had excellent students, and I enjoyed getting to know them all.  It was frankly a relief though when classes ended on June 9, since I had been teaching since September 1, and that everyone was safe and heading home to Boston.  Then I was on vacation!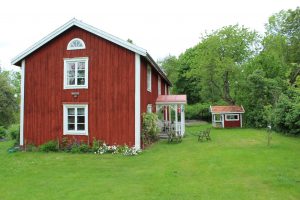 Sweden Yet Again.  My wife Gail flew in from Boston, and my Danish host family drove us to their modest 200-year-old farm house in Sweden.  The terrain looked like Maine, and according to a Swedish friend who had been an exchange student in my high school, it is Maine:  millions of years ago, the two coasts were attached.  The four of us went on several hikes and for some reason, we all took a dip in the frigid Baltic Sea.
My wife returned to Copenhagen to give a talk at the above mentioned Novo Nordisk, then we took a train to Western Denmark and one day later, the overnight ferry to Bergen in Norway.  The approach to Bergen through the narrow, meandering fjords was too beautiful for words.  Bergen looked like a postcard as well.  It is above the 60th parallel, about even with the southern tip of Greenland, and not far south of the Arctic Circle, the land of the midnight sun.  This was the furthest north that I had ever been, except for Iceland.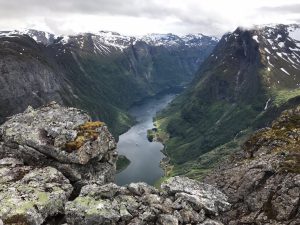 We then took a train high into the mountains of Norway, where we kayaked, camped, and hiked for three days on the UNESCO World Heritage site Nærøyfjorden (narrow fjord).  The hike was epically difficult but the view of the fjord from 3,700 feet up was magnificent.

After recovering for a day in a hotel, and at the suggestion of my former Norwegian tennis partner, who at the age of 80 still cross countries skis between huts in Norway in the winter, we also took a morning bike ride on the Rallarvegen, Norway's famous rail trail, on the first day of the cycling season.

I have traveled to many countries, whether for business or pleasure, but Scandinavia had always been on my bucket list, and it did not disappoint.  This painting of my host family, hanging in their living room, pretty much sums up my very favorable view of the Nordic countries and people.
A 2017 UN report ascribes the happiness of Scandinavians to high levels of mutual trust, shared purpose, generosity, good governance, freedom from corruption, and long-life expectancy.  The US by contrast ranks 19th in happiness and falling.  There likely is much that we in the US could learn from Scandinavians, even simple things  such as eating better, exercising and bicycling more and driving less, cooperating more and being less divisive, and embracing globalization rather than trying to isolate the US from it.
Success!  Somehow this study abroad program in Denmark, once merely an idea, came to fruition, and went largely as planned.  The students seemed to enjoy it and I think learned a lot.  Copenhagen was a fabulous place to study International Business, and I learned a lot myself both inside and outside of the classroom.  I am looking forward to leading the program again—same time next year!