The planning
When I told my family and friends about my trip to Cadiz they all told me that I need to take a trip to see the Rock of Gibraltar. This weekend I decided to take their advice and I took a day trip to go see what all the hype was about. From Cadiz Rock of Gibraltar is less than a three-hour bus ride away. The bus takes a little bit of planning but it's fairly inexpensive and simple to figure out. I stayed in an air bnb at the linea de Concepcion which is about a 20-minute walk from the rock of Gibraltar. You'll need to walk into Gibraltar unless you have a car or decide to take a bus. The host of my air bnb gave me a lot of helpful information about the area and helped make my trip go smoother. I would highly recommend staying on the Spanish side if you are planning a trip here because it is absolutely beautiful and you can still pay for everything with euros. Before you can start your trip to Gibraltar you have to go through customs so it's necessary to bring your passport. The rock is technically part of Brittish territory, how cool is that?
The hike
To see the rock close up there are two options. You can either take in the views from the cable cars or on foot. If you're feeling adventurous hiking is the way to go.  I decided I was up for the challenge and choose to do it this way. Disclaimer prepare to get your steps in. If you're planning to do the hike make sure you dedicate at least four hours of time to get from top to bottom. Sneakers and a lot of water are a must! There is so much to see so you will want to take a lot of pictures and breaks to admire the scenery. The best part of the hike is the views they are completely breathtaking. On a clear day, you can see Spain and Morocco from the top.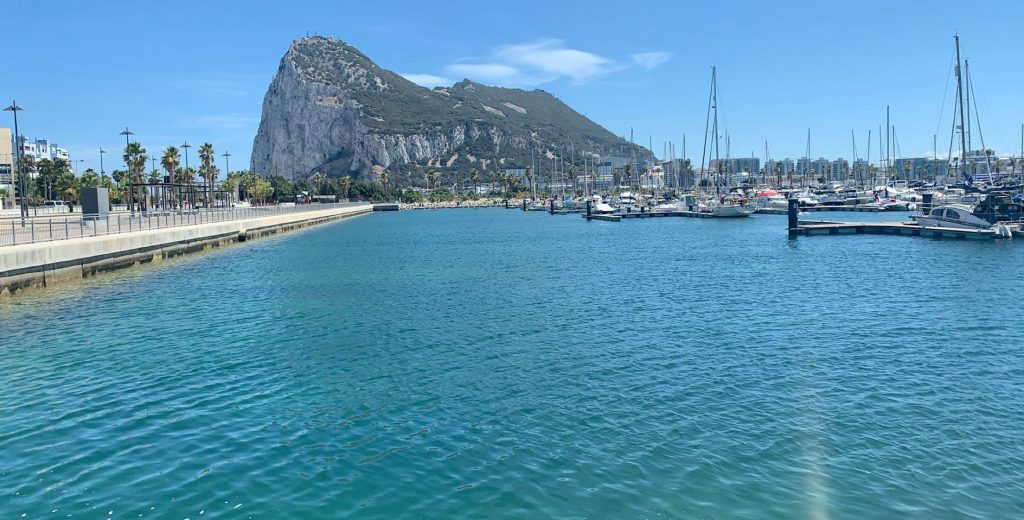 The Mokeys
Another main attraction of the hike was the monkeys. At first, I wasn't sure what type of behavior to expect from the monkeys. Before we reached the part of the mountain that was the ape's den there were warning signs that the monkeys might become aggressive if they are confined on the stairs. I've never seen a monkey in person before so it was such an amazing opportunity to be so close to them. While I was busy worrying if the monkeys were going to be aggressive or not they were preoccupied eating fruit and relaxing and well just being monkeys. Be aware that some of the monkeys are curious and will try to steal your belongings. I first-hand experienced an attempted robbery. Luckily, I was able to come away with all my belongings ( it was more cute than scary). In general, they are very relaxed and don't seem to mind receiving all the photo attention. On the way down we took the Meditteranean steps and the views continued to amaze me. At the end of the day, I was tired and sweaty but it was worth every step. Gracias Gibraltar.