My time, and everyone in the group's time here in Spain is winding up. I have long since been counting the days, as I enjoy keeping track of things, but now a mere 3 days away from our arrival on US soil, the feeling is really beginning to sink in.
Lucky for us (and this is the only time I will ever say this) we have our even sooner approaching final exam to keep us busy! For me, this exam is a nice test to see what knowledge I have accumulated over my time here in Cadiz. Needless to say studying and a final review is oh so necessary, but I am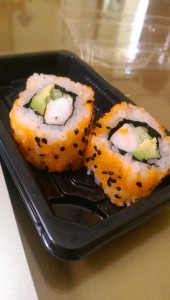 eager and slightly nervous to take and get back the results. Heres a riddle for you, "Whats unexpected, calms the nerves and feeds the soul of a college student?" Sushi from the Mercado de Cadiz.
Yes. I know, "Sushi in Spain? Isn't that more of a Japanese thing?", you say. Why yes, yes it is, but in reality 80% of Spain's red tuna export goes to Japan. Now knowing this I urge you to think about how much tuna sushi there is and the fact that Cadiz is known for its wide variety of  extremely fresh fish(sold openly at the Mercado each day save for Monday). "Hm, maybe Cadiz isn't such a bizarre place to find amazing sushi after all", and let me tell you it IS amazing. Would you just take a moment to appreciate the picture. The best California rolls and red tuna nigiri I have ever tasted have been in Cadiz. I liked the Cali rolls so much that I ordered some more rolls to take home for dinner(developing a minor sushi addiction).
In addition to my savory sushi, I had my long awaited canela y azucar( cinnamon and sugar) crepe. It might not look like much, but inside this thing is filled with flavor and the perfect crepe consistency. From week one I have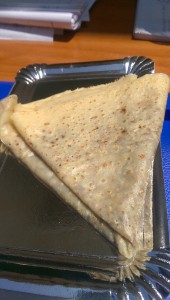 been craving a crepe and I'm proud to say that I finally got one. Before today, just 3 days before I leave, I had just never been in the right place at the right time with the right about of money, but oh was today different. I also acquired this morsel in the eating area of the Cadiz Mercado. Seriously, no regrets.
Morals for today: Study hard, but make time to enjoy life, especially in the last few days. Just because you haven't tried something up until this point, doesn't mean that that its too late. And lastly, for the sake of everything good in the world, please keep calm and try the sushi.