When I arrived in Budapest I didn't know what to expect. I had only heard of the city six months ago when my friend suggested it as one of the locations we should consider to travel abroad. Other than seeing a few pictures of the Parliament Building and other famous structures on Google Images, I had no idea what to expect. When we initially arrived, we were met with heavy rain, massive lightning strikes, and fireworks going off in the city… all topped off by a crazy taxi driver going 130 k (80 mph) through it all.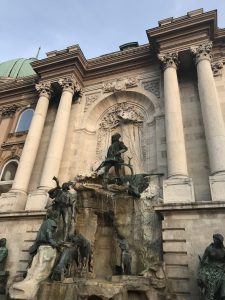 After that hectic night, I got to see the city in its entire glory, and I was immediately blown away. In our two group tours we got to see the beautiful architecture, learn the history, and try the food in both Buda and Pest. The city immediately took hold of me with its beauty and atmosphere.
You won't find major businesses, heavy traffic, or skyscrapers in Budapest but the city overcompensates with breathtaking architecture and rich history. This seems to be the biggest distinction between most European and U.S. cities, and something I love. A lot of U.S. cities feel and look the same, as where in Europe, each city has its own distinct background, culture, and atmosphere.
Even with it's drastic differences from the Boston area, my transition between cultures has been surprisingly smooth. Although English is spoken more commonly in the city center, I have still found the language barrier less difficult than I imagined. However, I was surprised when our RA informed us that Hungarian social norms are very different than those in the U.S. She told us that people in Hungary kept to themselves, meaning they would not smile or say hello when they walked by someone on the street. She told us not to take offence if someone doesn't acknowledge us if we signaled with a friendly gesture and explained that it was just part of the culture.
Other than the language boundary, I have adjusted to Budapest surprisingly well by learning the transit system and Hungarian cultural and social norms. I am excited to explore and become accustomed to the beautiful city of Budapest and to learn as much that I can about Hungarian culture and history!