I had finally finished my program and was able to take a week off for enjoyment with my boyfriend! For a week, my boyfriend and I traveled around Quito, Banos, and Mindo before heading back to the States.
We spent 1.5 days in Banos.
Day 1 Banos: We woke up at like 5:30AM and took an uber to Station Quitumbe and then took a 6:30AM bus to Banos. We got to our hostal, and went to have breakfast.We roamed around Banos until we went to the Casa Del Arbol at 1:30PM. Then we roamed around some more and had a delicious dinner…at a place I don't remember the name of.
Day 2 Banos: We got breakfast and hiked Pailon De Diablo. Afterwards, we had some cuy (guinea pig) for lunch and a smoothie for dessert. The skin of cuy is very tough, like leather, while the meat inside is of similar texture to chicken. Based on the price ($20-$25) and the meat itself, I wouldn't get it again, but it was something interesting to experience. Afterwards, we took a 2:30PM bus to Quitumbe and took an Uber back to our hotel. The bus ride from Banos to Quitumbe is about 4 hours long, so it's definitely something to consider.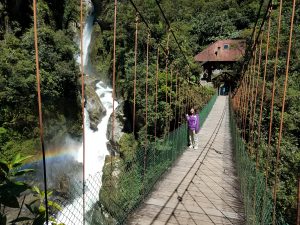 We spent 2-3 days in Quito exploring.
Day 1 Quito: We went to the older Mitad Del Mundo and the newer Mitad Del Mundo (a museum), which is a 45 minute from our studio, Aparthotel Walter. Then we went to Old Quito to visit the Basilica Church, another 45 minutes away. Afterwards we went to Teleferico, which was my 3rd time going. Then we met with my Pastor's niece at Crepe's and Waffles.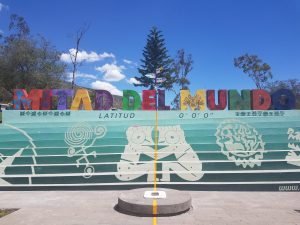 Day 2 Quito/Mindo: We went to the Artisan Market to buy touristy goodies, then we went to packed up to go to our hostal, Hostal Cecilia, in Mindo. They're awesome because they can prepare all of your activities for you if you tell them what you want to do and when. We did the 7:00PM night walk, 6:30AM bird watching, 10:00AM water tubing, and 12:00 ziplining (10 ziplines). Then we took the 3:30PM bus back to Quito! I highly recommend the water tubing ($6), but I wish I put on bug spray more often because I got at least 15 bug bites! As for dining, I highly recommend the $2 Arepes at a place right across a bar/club.
Day 3 Quito: We went back to the Artisan Market to get last minute stuff and to a MegaMaxi / SuperMaxi to get snacks for the flight back. Then, we went to a food tour with Strawberry Tours, which lasted ~2 hours, and we got to try fruits, bakery goods, an entree, chocolate, and candy. The tour guide, Carlos, was informative and friendly. I would recommend this tour! Then we had dinner and took a taxi to the airport.
After 11 hours, I arrived back in Boston. It was a great program and trip overall and I'm hoping to return back to Ecuador in the coming years. 🙂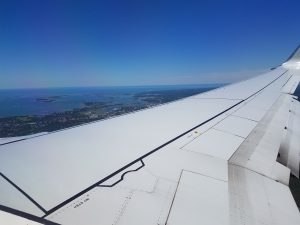 OH! Also, I lost 5lbs from this trip!
Ciao,
Kimberly Ng