Provided by Nancy Fowler, IT, Senior Program Mgr. | July 22, 2105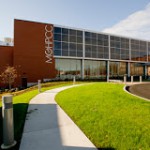 We hosted two general discussion sessions on the Lowell campus during the month of July which were open to all faculty. These sessions included a general overview of what MGHPCC is and the resources it can provide to our researchers. In total we had 26 researchers and students participate. Ralph Zottola, Chief Technology Officer, UMass Presidents Office, presented the information and facilitated these discussions.
The Lowell campus is hosting a more technical hands-on session regarding "How to use MGHPCC" on August 19 at 1pm in Olsen Hall, Room 314. Alan Ritacco, UMass Medical Information Technology, and Ralph Zotolla, CTO, UMass Presidents Office, will be presenting during this session. If you are interested in attending, please email Diana_Locey@uml.edu.